Sub Menu Toggle
Jessica Hernandez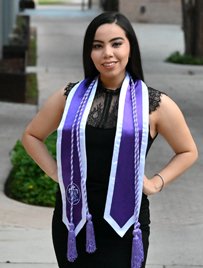 Name: Jessica A. Hernandez
Age: 25
Major:  Bachelor of Science in Nursing
College: College of Health Affairs
Hometown: Edinburg, TX
High School: South Texas ISD Health Professions, Mercedes, TX 
Why UTRGV?
I chose UTRGV because I wanted to stay close to my family and I also liked that this university has variety of career options. Over the years I have witnessed how the university continues to expand and provide more opportunities for the students. I decided to give back to the university by working in the Student Involvement Office and becoming a mentor to incoming students because UTRGV has proven to me numerous times how much care and support they provide to us, and I wanted to make sure the new students knew too. During the pandemic, for example UTRGV provided cash grants, care packages to students. When I graduated with my first bachelors in Rehabilitation Services, I was not able to participate in an in-person ceremony. I was devastated, however UTRGV made sure to provide a virtual ceremony for all Fall 2020 graduates and they sent in the mail our cap, tassel, and stole for the graduates. This just shows how UTRGV continues to support their students during the pandemic.

What made you decide on your current major?
I always knew that I wanted to be in the medical field. By attending South Texas ISD Health Professions, it gave me many opportunities like obtaining my Certified Nursing Assistant Certification. During my senior year, I did clinical hours in nursing homes and hospitals. I enjoyed having an impact on the lives of others and I always knew I wanted to have a career that felt very meaningful.
How are you maneuvering being a student during the COVID-19 pandemic?
Being a university student during the pandemic was challenging. Classes were no longer in person which made it difficult for me since I was used to seeing familiar faces. I quickly adapted to the online classes since I had prior classes in this format before the pandemic began. The best way I was able to maneuver through this pandemic was to make my day busy and plan out how my day would look like.
What are your greatest strengths and what are some challenges?
I would have to say that my organization and leadership skills are my greatest strengths. I use a checklist during the day to keep me on track of all the tasks that I must complete. When the pandemic started, I quickly realized how important it was going to be to develop a schedule for the week. 
What do you hope to achieve beyond completion of your major?
My short-term goal is to fulfill my desire of giving back to my community by providing the best care as a Registered Nurse. In the future I plan to continue my education and get my master's in nursing. I would like to be a family nurse practitioner and open my own practice in the valley to help provide quality affordable care to the community.
What do you like most about UTRGV?
I appreciate my accelerated bachelor's school of nursing program coordinator and professors because they have been helpful, responsive, and patient since the beginning of the pandemic. I have made lifelong friendships throughout my years here in UTRGV as well. I love the student involvement within UTRGV from how welcoming everyone is to the variety of school/athletic events and organizations the university has to offer. This allows for students to find something they enjoy and/or are passionate about and create friendships within the club. In this spring semester I am part of the National Society of Leadership and Success (NSLS), Student Nurse Organization, Sigma Theta Tau International Honor Society of Nursing, The Gathering, and The Student Leadership Academy.
What does being a Vaquero mean to you?
To me, being a Vaquero means to be proud of where you come from and value the people who are around you. By attending UTRGV, it has allowed me to connect with my culture and community. It is encouraging to see how the students become involved outside of their classes to make our community better and create opportunities for our future generations. I am proud of where I come from, and I try my best to represent UTRGV in everything I do.
What opportunities has UTRGV helped you find throughout your community? 
I worked at the UTRGV Student Involvement Office, where I met amazing student leaders. I was a mentor for incoming first-year students in a program called E.P.I.C. which stands for Engaging Peers in College. This program focused on teaching incoming first-year students about academics, student involvement, and personal growth. UTRGV gave me the opportunity to help other students become leaders and be more involved within the university.
What advice do you have for fellow students pursuing degrees during the COVID-19 pandemic?
Some advice I would give to students would be to become more involved with their community by joining groups or organizations. This is a wonderful way to meet new individuals, network, participate in community service, and learn new things. I would also like to remind everyone to keep pushing forward and do not give up on your dreams. There will be tough times in life, but we need to remember why and for whom you are doing this for. Continue to stay motivated and remember that coming this far was no accident. Si se puede!