Sub Menu Toggle
Dominique De Los Reyes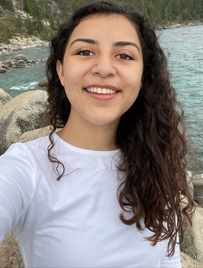 Name: Dominique De Los Reyes
Age: 20
Major: Double Major: Bachelor of Science in Biomedical Sciences and Bachelor of Arts in Theatre
College: College of Health Professions & College of Fine Arts
Hometown: Mission, Texas
High School: UTRGV Mathematics and Science Academy, Edinburg, Texas 
Why UTRGV?
I chose UTRGV because of the amazing experience I had while attending the UTRGV Mathematics and Science Academy. Through this high school program, I was able to be a full-time college student during my junior and senior year of high school. This allowed me to achieve a significant head start in my college career as well as earn a scholarship to UTRGV when I graduated high school. The close distance of the university to my parent's house and this scholarship has given me the opportunity to save money for my future plans to travel.
What made you decide on your current major?
I had originally chosen to only major in biomedical sciences because of my interest in medicine. However, I was able to earn many college credits during high school which allowed me to pursue a second major in theatre while still being able to graduate early. I always thought I could only choose to study science or fine arts, never both. Therefore, I dismissed my interest in theatre for a long time, but the opportunities given to me at UTRGV have enabled me to pursue both my passions. 
What do you hope to achieve beyond completion of your major?
After graduation, I hope to live in Spain for a year to teach English. While there, I plan to explore other parts of Europe and immerse myself in various cultures. After that, I see myself pursuing a career in acting while ideally combining my knowledge in science with my passion for the fine arts.
What do you like most about UTRGV?
I love that UTRGV has two completely different campuses because it provides a nice change in atmosphere when travelling between campuses. What I love most is that UTRGV provides transportation between each campus because it truly has helped me financially since I often have to travel between the Edinburg and Brownsville campus.
What does being a Vaquero mean to you?
Being a Vaquero means having the ability to study and earn a college degree while staying close to my family and saving money for my plans after graduation. I'm proud to be a Vaquero because it is a symbol of my university and hometown.
What opportunities has UTRGV helped you find throughout your community?
UTRGV has given me so many opportunities to explore different career options with both my interests. I have worked for the UTRGV learning center for almost two years as a biology and chemistry tutor. I have also worked within the UTRGV theatre department on a series of educational videos discussing the history of Mexican theatre. I was also able to work on an educational film titled Energy & U for young students to learn about the laws of thermodynamics. Most recently I have been working as a research assistant within the UTRGV chemistry department. Not only have I gained so much knowledge from these opportunities, but I've also met so many wonderful people.
What advice do you have for fellow students pursuing their degrees?
Don't feel rushed! I feel like that's the biggest lesson I've learned, especially since graduating early was a goal that was promoted greatly by my high school. There is so much to experience in college, and I sometimes wish I had more than a year left before I graduate. College is truly a place to explore one's interests, take full advantage of that.