Sub Menu Toggle
Demian Rodriguez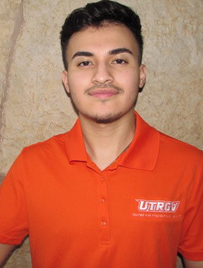 Name: Demian Rodriguez
Age: 21
Major: Biology
College: College of Sciences
Hometown: Brownsville, TX
High School: Veterans Memorial Early College High School, Brownsville, TX 
Why UTRGV?
I chose UTRGV because it is very convenient for me. It is close to home and very affordable, especially because I plan to further my education by attending medical school which will be very expensive.

What made you decide on your current major?
I have always had an interest in science and lucky for me, it is one of the most recommended majors to take if planning to attend medical school. 
How are you maneuvering being a student during the COVID-19 pandemic?
This pandemic has not rendered my academic capabilities or education because I have always been an individual who is able to adapt to any situation whether it be good or bad, allowing me to stay on the right path.
What are your greatest strengths and what are some challenges? 
Some of my strengths are that I am very organized and always plan accordingly. This pandemic has shed light on my strengths since it was very easy to get off track, however, I never procrastinated and always did my assignments on time. Some challenges did it occur, but it was difficult to get a hold of my professors since everything was virtual. Having classmates that were in the same boat helped a lot because we were able to assist each other if questions arose.
What do you hope to achieve beyond completion of your major?
After graduating, I plan to attend medical school in hopes to pursue a career in plastic surgery. I have always been fascinated with the medical field and this career has a blend of medicine and art, which is another hobby of mine. Working on individuals to live better lives and having the abilities to make someone happy is something I would love to strive for, and I believe this career would be a perfect fit for me. 
What do you like most about UTRGV?
There are many great things I can say about UTRGV, however, the one thing I love most is the sense of community and Hispanic culture. I have never dreaded coming to campus because every time I attend campus, I feel like I am at home. The students and faculty are amiable and the energy on campus is very calming which helps after being in class all day. The Hispanic culture on campus is something I cherish because I am pretty sure there is no other campus in the world with this sense of heritage and hominess.

What does being a Vaquero mean to you?
Being a Vaquero is an honor because it means that I am getting an education to become someone great in my community. I plan to become someone known for helping others and changing people's lives in the medical field, and being a Vaquero is the first step towards that goal.

What opportunities has UTRGV helped you find throughout your community?
UTRGV played an active role in my volunteering experience because they provide many opportunities to give to the community. Even during the pandemic, the university was trying to reach out to agencies to have UTRGV students volunteer and give back to the community. People do not realize how fortunate we are to be in a university that is an active participant in volunteering opportunities and helping the community become a better place.
What advice do you have for fellow students pursuing degrees during the COVID-19 pandemic?
My best advice is to never procrastinate because with having classes that are online and especially, asynchronous, it is very easy to leave assignments for later and stray away from good grades. Therefore, I would advise everyone to treat every class as if they were in-person.