Sub Menu Toggle
Arely Solis-Gonzalez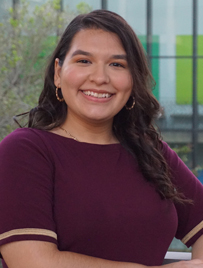 Name: Arely Solis-Gonzalez
Age: 24
Major: Bilingual Education (EC-6) Bachelor of Interdisciplinary Studies
College: College of Education and P-16 Integration
Hometown: Sullivan City, TX
High School: La Joya High School, La Joya, TX 
Why UTRGV?
Selecting a university that is aligned with a student's dream can oftentimes be challenging because it depends on analyzing academic rigor, major availability, cost, affordability, student life, and the feeling of connectedness and acceptability a student wishes to experience when they visit the institution for the first time. While exploring the various options I had, I knew that leaving the Valley was a factor worthy of consideration. Coming from a migrant family, I knew that deciding wouldn't just solely affect me. I had a conversation with my family, and that is when I realized that UTRGV was the best fit for me at that time and to this day. It offers a great education at an economic cost when compared to other universities. I received the opportunity to familiarize myself with the Edinburg campus through a summer migrant camp called MUSE. Through MUSE, I was introduced to a snippet of that important feeling of belongingness that is so significant to incoming freshmen. Most importantly, it meant I'd still be able to see my family since they migrate for six to seven months out of the year to other states.
What made you decide on your current major?
I came to UTRGV intending to major in something else, and it wasn't until my third year that I decided to major in elementary education. I found my passion thanks to the employment opportunities that UTRGV offers its students. During my second year, I decided to apply for a position as a camp counselor with the department of P-16 Outreach at MUSE. I had the opportunity to work with high school students and serve as a mentor to them. To my surprise, I grew to like it more than what I initially anticipated. My position as a camp counselor afforded me a distinct and valuable perspective; one where I found meaning in my work. I found myself reapplying and eager to make an impact on our students. Education is at the heart of every career, and it is what drives our future forward toward a more sophisticated vision of a happier and healthier world. It is in this way that I wish to contribute to the improvement of our future. 
How are you maneuvering being a student during the COVID-19 pandemic?
Virtual learning has been an endeavor to both professors and students alike. UTRGV's student body, faculty, and staff have demonstrated an outstanding degree of adaptability and efficiency in the face of a global pandemic. To ensure that I was able to excel in virtual classes, I relied heavily on time management skills, a daily planner, and the continuous support and understanding of my family and my professors. Understanding the scientific data and participating in the recommendations of masks, vaccines, and social distancing was UTRGV's collaborative effort to defeat the virus. I am proud of the supportive and science driven role my university has taken during these overwhelming times.
What are your greatest strengths and what are some challenges?
I've learned how to quickly adapt to changes that can be thrown at us, especially to situations that are out of our control. It's easy to feel powerless and unable to fight back when we are going through difficult situations but learning to analyze the situation, adapt, change, and grow is what can strengthen you. Having said that, a challenge of mine is keeping that strength after some time. I must continuously resupply my resiliency and my grit after I have faced obstacle after obstacle. I resupply it with an abundance of love, hope, meaning, dreams, and goals. I must continuously tell myself that obstacles exist to challenge your motivation and purpose. I owe it to myself to finish my degree successfully. 
What do you hope to achieve beyond completion of your major?
My goal is to provide the best possible service to students. As a future elementary school teacher, I know that my students will look up to me for just about everything, and I want to set a positive example both in and out of the classroom. When the time comes, I'd like to pursue a master's degree in school counseling. Through P-16 Outreach and Testing Services, I had the privilege of working under an outstanding counselor, Ms. Elizabeth Rios, from Sharyland High School. Mrs. Rios has encouraged me to pursue furthering my education beyond a bachelor's degree. We both come from similar backgrounds, but her accomplishments and trajectory are what have encouraged me to become the person I am and will continue to grow and be. During my three years working with her, I've seen her dedication to advocating for and serving the students who come through her door. Through her I've learned to be compassionate but firm, advocate for students but also for ourselves, and it's everything that I strive to be for my future students and myself.
What do you like most about UTRGV?
The Education Complex on the Edinburg campus is my favorite spot to be, but I've also enjoyed the teachers I've met from the college of education. I've had professors who have shared their journeys with us, and I've found their journeys to be motivating and admirable, therefore I'm grateful to have been educated by them. Another aspect of UTRGV that I most definitely like is their generous financial aid opportunities. UTRGV understands that college is expensive, and they do everything within their power to provide financial assistance for students. Examples of their intentional effort to help provide funding for students are the tuition advantage program and the new Luminary Scholars program.

What does being a Vaquero mean to you?
To be a Vaquero means to be proud of one's diverse background. It entails taking pride in who you are and where you came from. Most importantly, being a Vaquero means being a part of a phenomenal community of individuals who care and aspire to improve the Rio Grande Valley.
What opportunities has UTRGV helped you find throughout your community?
The most incredible opportunity that UTRGV has given me is the opportunity to work for P-16 Outreach and Testing Services. I've grown with them throughout most of my undergraduate years. I've gained so much experience professionally and personally. I have found the inspiration to pursue education. I have met amazing co-workers who share the same aspirations, and I have established relationships with incredible educators.
What advice do you have for fellow students pursuing degrees during the COVID-19 pandemic?
Don't give this virus the power it doesn't deserve. Together, we will overcome it. A virus does not get to decide your future; only you get to do that. Don't give up and take it at your own pace.