Sub Menu Toggle
Alejandra Yanez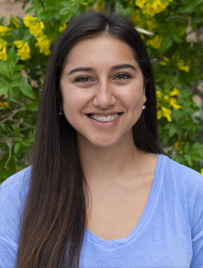 Name: Alejandra Yañez
Age: 21
Major: English
College: College of Liberal Arts
Hometown: Los Fresnos, TX
High School: Los Fresnos High School, Los Fresnos, TX 
Why UTRGV?
Given UTRGV's affordability and dedication to serving its local and international student base, my decision to join the Vaquero family was an easy one. With many of my family members and educators attending legacy institutions UTB and UTPA, I was eager to follow and gain the quality education I knew UTRGV could provide for me while also staying true to my roots.
What made you decide on your current major?
When I first began my journey at UTRGV, I was enrolled as an environmental science major. As the daughter of a former biology teacher, I was determined to follow in my mother's footsteps. That first semester, I enrolled in an intro English course and was liberated by the freedom to write. As the semester progressed, I was told by my professor, who believed in my writing ability and articulation, that I should consider the English programs at UTRGV. The next semester I was an English major. I am grateful for professor Monica Reyes who helped me pursue my passion during a time when I was still coming into my own.
How are you maneuvering being a student during the COVID-19 pandemic?
In the beginning, it was not too much of an academic adjustment for me because I was used to having most of my classes online. However, as time went on, I found myself more and more engulfed in the realities of the pandemic. As the COVID-19 reporter for the UTRGV newspaper, The Rider, I could not disassociate as easily. Each night of lockdown and even as we began the return to campus, I found myself grappling with my own mortality, something I had never really had to do before. Reporting on so much death and interviewing those who lost loved ones was difficult for me. I truly believe that my courses, although challenging, helped get me through it. Though it was not what I pictured my undergraduate career to look like, I am grateful for every moment and opportunity that presented itself because I learned more about the world and myself than I ever thought I could.
What are your greatest strengths and what are some challenges?
My greatest strength is having my family and loved ones. Though we all face adversity, it is important to have people in our lives to remind us of our strengths and encourage us to keep going. With that said I think my greatest challenge has been accepting disappointment. Letting go is something that is not always easy for me, but with the help of my grandma during this pandemic, I have learned to have faith.
What do you hope to achieve beyond completion of your major?
I was recently accepted into the Literatures and Cultural Studies master's program at UTRGV and plan to begin this summer after graduation! My education has only empowered me to dream bigger and as a result, I plan to take my passion for literature and writing to the highest level and attain a Ph.D. in the field to become a better candidate in both my journalistic and academic endeavors.
What do you like most about UTRGV?
My favorite thing about UTRGV are the amazing students. With my position as a reporter, I've been lucky enough to speak to so many different people and write their stories. Those connections are invaluable to me. What does being a Vaquero mean to you? Being a Vaquera means contributing to the campus community. Being that our university is relatively young in comparison to other UT schools, I like the idea of being able to grow with the institution and see the student involvement and dedication as we work through the growing pains.
What opportunities has UTRGV helped you find throughout your community?
I am most grateful for the relationships, experiences, and opportunities I have gained by being a part of Student Media at UTRGV. Azenett, Michell and Jesus have taught me more in that newsroom than I could have ever learned in the classroom. Working for The Rider for the past three years has allowed me to grow as a professional and given me the experience I need for my career.
What advice do you have for fellow students pursuing degrees during the COVID-19 pandemic?
Pursuing a degree during a pandemic is not easy. Do not be so hard on yourself because there is no timeline to achieving your goals. Remember that while it may feel difficult and overwhelming at times, there are always resources and a community of professors and mentors who are ready to help. All you have to do is ask.