Sub Menu Toggle
Alejandra Avilez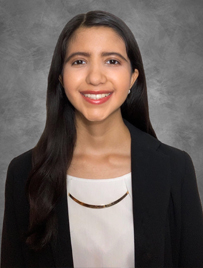 Name: Alejandra Avilez
Age: 19
Major: Finance
College: Robert C. Vackar College of Business and Entrepreneurship
Hometown: McAllen, TX
High School: Achieve Early College High School, McAllen, TX 
Why UTRGV?
Born and raised in the Valley, I have witnessed the beautiful changes our community has grown to know and love. At this university, we have faculty and staff who understand the community and culture of the Valley and go the extra mile to build up and guide new leaders. It's heartwarming to know that there are people with the mentality of change, success, and community, and I wanted to be part of the Valley's future.
What made you decide on your current major?
At a very young age, money management intrigued me, from garage sales to side hustles. However, it took me a while to realize that it was something that I wanted to learn more about. The beginning of the pandemic reaffirmed my inclined interest as I began helping my family with managing personal and business money. It was enjoyable and something I could see myself doing for a while. Now, at UTRGV, I am learning how businesses handle and evaluate earnings to ensure future financial success. Its great UTRGV provides a degree that teaches and prepares its students for their future, both in and outside of the classroom.
How are you maneuvering being a student during the COVID-19 pandemic?
Day by day, this pandemic has brought challenges to everyone, including myself. Regarding school, the movement to remote learning can come with its difficulties. Amongst the virtual learning, I've learned to discipline myself by managing my time and becoming a problem solver with my workload. In addition, the transition to self-learning and reading was very challenging as a visual learner. The pandemic obligated me to adapt to become resourceful and learn a bit differently. For example, whenever I don't understand a concept, I will search for a video that could better explain it. As classes have transitioned back to in-person classes, I have been able to have that community that is hard to see virtually.
What are your greatest strengths and what are some challenges? 
Some strengths that I had to sharpen because of the pandemic include time management, virtual collaboration, and problem-solving. The pandemic, combined with the start of college, provided an unstructured schedule that obligated me to create a plan to stick to; there was a challenge to discipline my time. With the amount of schoolwork in a short time, I have become more responsible and independent. Though the pandemic has continuously changed how the school looks both in-person and online, I would say that what I considered a challenge two years ago is one of my strengths today.
What do you hope to achieve beyond completion of your major?
Upon completing my time at UTRGV, a short-term goal is to work in a local financial firm. The financial needs and circumstances of the RGV differ from other regions in many aspects. Considering that finances can sometimes be a taboo topic in our community, I hope to apply my educational knowledge to become an influential financial leader in the Rio Grande Valley.
What do you like most about UTRGV?
In many of my classes, I have seen professors go the extra mile for their students to learn the material and apply the material and day-to-day life. It's heartwarming to know that there are people with the mentality of change, Success, and community. Moreover, the foundation behind everything is truly family. So many individuals come in from different parts of the Valley, but being in the same classrooms and working together creates that family bond that the Valley and the Hispanic community are known for. I genuinely believe that the sense of community, family and potential change the UTRGV provides is what I love about it.
What does being a Vaquero mean to you?
Being a Vaquero, to me, represents who I am today: learning to become a leader in my community and being able to show my school spirit to others. UTRGV provides opportunities for bright futures, improves daily lives, and allows our region to flourish.
What opportunities has UTRGV helped you find throughout your community?
UTRGV has allowed me to meet such amazing people and given me fantastic opportunities, from scholarships to being a part of student organizations to getting an internship and giving back to my community. I am very grateful to experience the opportunities I have received and more to come.
What advice do you have for fellow students pursuing degrees during the COVID-19 pandemic?
Don't give up despite the circumstances. The opportunities given today may not be a guaranteed tomorrow, so learn to think on your toes. Yes, many things take time, and this process of life is one of them. Through Covid, I have learned that there isn't an opportunity to remain incognito when we're trying to succeed. So many times, students hide behind a picture on zoom calls or random avatars on group chats. But the real world as we know it requires us to be present and, at times, vulnerable to gain personal and professional growth.