Sub Menu Toggle
Alani Berlanga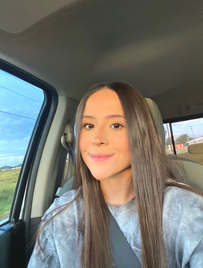 Name: Alani Berlanga
Age: 20
Major: Exercise Science
College: College of Health Professions
Hometown: Edinburg, Texas
High School: Edinburg North High School, Edinburg, TX 
Why UTRGV?
I chose UTRGV because I wanted to experience what college was like and grow as a person. Having the opportunity to accomplish this while remaining close to home made the decision to become a Vaquero that much easier.

What made you decide on your current major?
I decided to become an Occupational Therapist because I want to give others, especially children, the chance to be themselves. Being able to live life despite having a disability and demonstrating that we are all equal is important to me. 
How are you maneuvering being a student during the COVID-19 pandemic?
I needed to become more versatile and open to new experiences. The change from in-person to Zoom classes was unfamiliar waters for all of us. Throughout the pandemic, I was able to be more organized and prepare ahead.
What are your greatest strengths and what are some challenges?
My greatest strength is that I am extremely focused and strive to always achieve my goals. Even though what we are facing right now with this pandemic was not intended, I strive to find the positive in everything and keep moving forward. 
What do you hope to achieve beyond completion of your major?
I've always wanted to start a clinic in Mexico ever since I chose to become an OT. Even though I'd want to work in the Valley, I'd like to travel for a few days to treat patients there. I'd like to broaden my dream and work not only in Mexico, but other areas if given the opportunity. 
What do you like most about UTRGV?
The availability of an OT program and the opportunity to pursue my doctorate degree.
What does being a Vaquero mean to you?
As a Vaquero, I am able to demonstrate my school spirit to others. Being a Vaquero entails being a part of a group that will shape you to reflect success-oriented attitudes and beliefs. 
What opportunities has UTRGV helped you find throughout your community?
Thank you to Dr. Conaster, my Adapted Kinesiology professor. I've had the opportunity to volunteer at Brownsville and get a sense of what it's like to work as an Occupational Therapist. And thank you to the parents who put their confidence in me to treat their child and be a part of their lives during this journey.
What advice do you have for fellow students pursuing degrees during the COVID-19 pandemic?
There is always a way to get things done, no matter how big or small your aspirations are or how difficult life might be. You are your own person; be proud of yourself.