Sub Menu Toggle
Zak Borja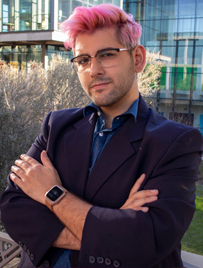 Name: Zak Borja
Age: 22
Major: Political Science
College: College of Liberal Arts
Hometown: Brownsville
High School: Pace High School 
Why UTRGV?
I chose to attend UTRGV because I want to change the world, and I believe the best place to learn, grow, and connect with my community is UTRGV. I have had the honor of getting to know some of the most hardworking, passionate, and beautiful people I have ever met. I chose UTRGV because I truly understand that this university is a beacon of progress and knowledge that molds extraordinary young leaders into thinkers and doers that can and will make real impacts on the Valley and the world. UTRGV isn't just another university; it is a place you go when you want to change the world, which is precisely why I picked UTRGV.
What made you decide on your current major?
I decided on my current major because political science is not just another social science but also a real guidebook on how to make a difference. This major has allowed me to better understand the political process of government and how to better understand the advancement of progress for Latinx, Black, and non-Black POC. The tools and opportunities UTRGV have provided me through the political science department have been monumental in my quest to craft significant tangible change for my community and have helped grow my passion for public service. 
How are you maneuvering being a student during the COVID-19 pandemic?
I  admit it has been challenging to be a student in a world facing a global pandemic, especially when I have underlying health conditions that could jeopardize my life if I did catch COVID-19. It has been a bumpy ride getting to where I am academically in this pandemic. Still, I have learned to separate my workspace from my bedroom. I've learned I need to clear my head via exercise or just getting some fresh air. Most importantly, I have learned more than ever being a student in this pandemic has made me more organized.
What are your greatest strengths and what are some challenges? 
I believe some of my greatest strengths are the fact that I can make meaningful, impactful connections with everyday people no matter where I go and no matter who I'm speaking with. I care deeply about my community and the people who inhabit it, so every day I walk out of my house and speak with someone, I try my best to be as open, friendly, and caring as I possibly can. I try and make sure that every connection I have with mi gente is a meaningful one. I have the endurance and drive to blindly push forward no matter what obstacle is in my way so that I may achieve my goal of making the Rio Grande Valley and society a better place to live.
What do you hope to achieve beyond completion of your major?
After I graduate from UTRGV, I want to use everything I've learned from this school to go on and complete a master's degree in public policy at the University of Texas at Austin. Through grad school and my UTRGV education, I want to learn how to translate my passion for public service into writing real, practical, tangible policy that will make the lives of Rio Grande Valley citizens much more comfortable people the opportunities that they so greatly deserve. Once I complete my master's, I want to come back to the RGV and use everything I've learned from not only UTRGV but life growing up here in the Valley to launch a campaign for Congress so that I may take the bountiful knowledge that UTRGV has given me and the life experience here in the RGV and make real change for our people in Washington D.C. 
What do you like most about UTRGV?
The professors here especially in my department are so hands-on and caring with their students, unlike bigger universities where you're just a number you truly feel like you are important, and you are being listened to in class. For me the best thing about UTRGV is after a great class with a thoughtful professor who treats class like a meaningful discussion to challenge thought and mind, I get to walk out and see a true oasis. Although some of Edinburg might seem mundane and a little bleak the Edinburg campus is truly a hidden gem. Inside the bronc trail beautiful tall buildings and wonderfully manicured lawns sprawl the university.

What does being a Vaquero mean to you?
I find that being a Vaquero doesn't just mean I'm getting a quality education but learning necessary toolstoo better serve the Rio Grande Valley and beyond. I take pride in being able to walk around both campuses, taking in the beautiful greenery and architecture, and knowing that being at UTRGV means I will be able to change the world one day.
What opportunities has UTRGV helped you find throughout your community?
My time at UTRGV has been filled with multiple organizations that allow me to understand and comprehend the needs of my community and beyond. From organizing U.S. Senate candidates' town halls to attending meetings to serve the community better, the opportunities this school gives to students are immeasurable. However, I want to be able to do more community volunteer work like TAMU's big event. Still, for such a new university, utrgv has given an abundance of opportunities to connect with the community on and off-campus!
What advice do you have for fellow students pursuing degrees during the COVID-19 pandemic?
Some advice I have for students living and learning during these times is to understand that none of this is normal. It's stressful being in your home continually staring at Zoom calls instead of real face-to-face learning. To create a workspace, separate from your room or bed, go for a walk, and run, so you don't go insane being couped up, and most importantly, put yourself first. Your mental health is probably struggling, so communicate this with your professors. Try and get extra time or an extension so you could go on a walking trail so that your mental health has time to recover.