Sub Menu Toggle
Yahia Al-Qudah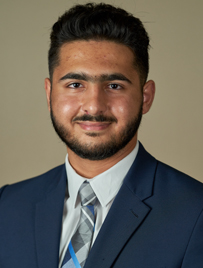 Name: Yahia Al-Qudah
Age: 20
Major: Biology
College: College of Sciences
Hometown: Harlingen, TX
High School: South Texas High School for Health Professions (Med High), Mercedes, TX
Why UTRGV?
I chose UTRGV because I recognized the abundance of academic and career opportunities available for students all while being cost-effective and close to home. It was a deal I could not say no to! Now that I have completed two years of college, I can look back and honestly reflect on my decision. I have no regrets! UTRGV has given me everything I've pursued: leadership opportunity, academic excellence, job availability, and many connections to the real world. UTRGV has proven that it can compete with any university in the nation while at the same time making college affordable for students and families of the Rio Grande Valley. I'm proud to be a Vaquero!
What made you decide on your current major?
Entering university, I had already made up my mind to become a doctor. I chose a biology major as the traditional pre-medical route so that I can have the necessary knowledge and prerequisites for the medical college admission test. Furthermore, the instructors in the Biology department offer a wealth of knowledge in medical sciences and there are always research opportunities for undergraduate students. Lastly, the student organizations under the College of Sciences provided me the path to connect with fellow peers and work to volunteer in the community, learn about different medical practices, and more!
How are you maneuvering being a student during the COVID-19 pandemic?
Like many others, getting a college education during a pandemic was challenging. I missed the face-to-face interaction with instructors and valuable socialization with peers. At first, I found myself lacking the structure that going to school provided on a day-to-day basis. To remedy this, I made sure to plan my days in advance, schedule times to study, and stay in contact with friends and organizations through social media and text! 
What are your greatest strengths and what are some challenges?
The pandemic shed light on my personal strengths and a few things I struggled with. As a part of the Civic Engagement Alliance at UTRGV, I lead online events centered around voting, voter registration, and the importance of being civically engaged in the community. This work required a lot of time management and planning. While I struggled at first, I got the hang of it by planning my week in advance and setting agendas for the day. My greatest strength was realizing that once I found something I personally lacked in, I would do my best to improve in that area.
What do you hope to achieve beyond completion of your major?
When I graduate from college, I hope to apply to medical school and work to acquire a master's degree in Business Administration. My goal is to not only serve my community as a physician but to also continue my leadership journey as a hospital administrator to have a vocal role in providing the best quality of care for all.
What do you like most about UTRGV?
I appreciate UTRGV's mission to provide a world-class education and student life experience at an affordable price for students. Vaqueros have access to a beautiful Edinburg and Brownsville campus as well as many facilities located around the RGV and beyond filled with a vibrant student life experience comprising of organizational activities, cultural events, and university festivals. Lastly, I want to highlight UTRGV's incredible resources for students like the career center, writing center, counseling, and more!
What does being a Vaquero mean to you?
In my eyes, being a Vaquero is about giving back to the community. UTRGV is a great role model as a primarily Hispanic-serving institution. The pandemic really hurt our families of the RGV. UTRGV understood the situation of students and remedied with spring, summer, and fall monetary packages along with implementing the Tuition Advantage program. I, along with many of my peers, are grateful to UTRGV for always supporting our RGV community.
What opportunities has UTRGV helped you find throughout your community?
I've enjoyed the sciences for as long as I can remember, but I was after joining the Student Government Association and Civic Engagement Alliance at UTRGV, I have gained a new love for law and policy. Along with being a practicing physician, I also hope to focus on improving health policy soon. To maximize this goal, I recently decided to get a minor in political science!  
What advice do you have for fellow students pursuing degrees during the COVID-19 pandemic?
Time management is a skill we all must learn one way or the other. For some, it came naturally. For many others and I, the pandemic pushed us to gain new skills in managing our time by setting goals, scheduling a weekly agenda for studying and assignments, as well as trying to stay structured throughout the day. I would advise fellow students to stay positive and to continue striving even if we struggle! No one said it would be easy. Keep dreaming, set goals, work hard and soon, your dreams will become reality.