Sub Menu Toggle
Tanya Carter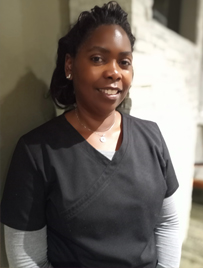 Name: Tanya Carter
Age: 51
Major: Bachelor of Science in Nursing
College: College of Health Professions
Hometown: Luling, Texas
High School: Luling High School 
Why UTRGV?
I wanted the traditional "brick and mortar" feel from an online program. Every class that I had taken prior to entering this program had been in-person. So, I was somewhat concerned about an online program. But after speaking with a few of the faculty members, I knew I was in the right place.

What made you decide on your current major?
I have been a Registered Nurse for 20 plus years and I have always thought about returning to school to get my BSN but felt it was never the right time. I was encouraged by someone dear to my heart to take the plunge after his father became ill last year. He had nothing but exceptional things to say about the outstanding nursing care that was provided to his father.
How are you maneuvering being a student during the COVID-19 pandemic?
As a nurse, you are faced with challenges daily. COVID-19 is just another challenge that has changed the way we do just about everything.
What are your greatest strengths and what are some challenges? 
I am patient, personable, and a patient advocate. Early on during the COVID-19 pandemic, I had the opportunity to do phone triage. Patients would call stressed about their potential for exposure, questions about symptoms and testing options. It was so very important to me to be the calm empathic voice on the other end to provide instruction, guidance, and peace of mind. 
What do you hope to achieve beyond completion of your major?
I would like to either get a certification in Wound and Ostomy Care Nursing or pursue a career in Correctional Nursing.
What do you like most about UTRGV?
The professors are top-notch, patient and kind. They go the extra mild to make sure that you have what you need to succeed.

What does being a Vaquero mean to you?
It means taking pride in your accomplishments and a sense of belonging.
What opportunities has UTRGV helped you find throughout your community?
Volunteering was one of the opportunities that was provided by UTRGV. At the end of January 2021, I had an opportunity to participate in one of the COVID-19 vaccine clinics. I drove four hours to Edinburg from Luling, Texas to participate. I enjoyed meeting the staff and the people who live in the community. They all seemed so grateful that students were there to assist. It was a "bigger that yourself" experience.
What advice do you have for fellow students pursuing degrees during the COVID-19 pandemic?
It is possible and you are not alone. UTRGV has great resources and can guide you along your path.