Sub Menu Toggle
Rosailda Gonzalez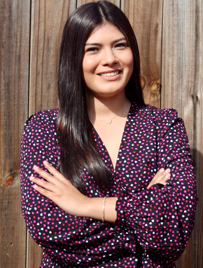 Name: Rosailda Gonzalez
Age: 21
Major: Social Work
College: College of Health Affairs 
Hometown: Edinburg, TX
High School: Johnny G. Economedes High School 
Why UTRGV?
I decided to attend The University of Texas Rio Grande Valley because it was close to home and offered great opportunities. Being a UTRGV student has allowed me to grow as an individual and learn from the community. As a student majoring in social work, it was important for me to find a university with a mission statement that best aligned with my views. It was clear that UTRGV was the best option because it promotes innovation and accessible education for its staff, students, and community.
What made you decide on your current major?  
At a very young age, I decided I would major in social work because I wanted to be an advocate for others. Growing up in the Rio Grande Valley, I have seen the various needs in our community and the resources available. Because the community is unaware of the resources available to them, they may miss opportunities that would help them. I am passionate about helping others and will work closely with the people in the community to create social justice.
How are you maneuvering being a student during the COVID-19 pandemic?
Being a student during the COVID-19 pandemic has not been easy, but I have learned to maneuver through the challenges and maintain my academic goals at the top of my priorities. Initially, there was the challenge of adapting to a new way of learning when all classes were being conducted online. On top of learning how to manage my academics, I learned to prioritize my mental health during these difficult times. I am thankful for the university and professors who have been very understanding and helpful throughout this entire journey. As a student, it makes me feel great knowing that I am a part of UTRGV.
What are your greatest strengths and what are some challenges? 
My greatest strengths are my determination, ambition and being resourceful. At a time in our history where everything has been uncertain, these strengths have helped me persevere and stay true to my goals.
What do you hope to achieve beyond completion of your major?
After completing my major, I will be pursuing a master's degree in Social Work and will begin my career at a Juvenile Detention or at Child Protective Services. I want to have a positive impact on the lives of many by providing them with the much-needed resources. As a future social worker my goal is to never stop learning and helping those who are most vulnerable. It is important for me to always strive to be a better version of myself and be able to advocate and empower those around me. 
What do you like most about UTRGV?
What I like most about UTRGV, besides the professors, community, and facilities, are the opportunities it provides for the students. Throughout the years, these opportunities have paved my college experience to be as outstanding as it has been. I have made wonderful friends and met outstanding role models who I am thankful for.
What does being a Vaquero mean to you?
Being a Vaquero means being part of a community that will mold you to reflect values and beliefs centered around success. Attending UTRGV has shown me that no matter how difficult times can get there will always be a guidance that will help.

What opportunities has UTRGV helped you find throughout your community?
The opportunity that UTRGV helped me find and I am most grateful for is the P-16 Outreach and Testing Services program. I had never experienced such an amazing program to work with until I became a Mother-Daughter Mentor for middle school students. The qualities I have learned have not only shaped my personal life but are qualities that I will carry into my professional career.
What advice do you have for fellow students pursuing degrees during the COVID-19 pandemic?
The advice that has helped me and will certainly help other students pursing degrees during the COVID-19 pandemic is to not be afraid to ask questions. It can seem like such a difficult thing to do, especially, since most interactions are not face-to-face. It is important to always remember that pursuing any type of degree takes a lot of dedication and as long as you are trying your best that is all that matters.