Sub Menu Toggle
Priscilla Valencia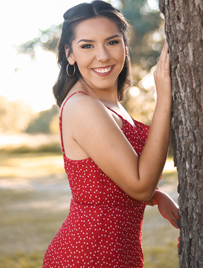 Name: Priscilla Valencia
Age: 21
Major: Music Education
College: College of Fine Arts
Hometown: Mission, TX
High School: Juarez-Lincoln High School, Mission, TX 
Why UTRGV?
I decided to attend UTRGV because it was the best economical choice. It also allowed me to stay close to my family while pursuing my career.

What made you decide on your current major?
I decided to major in Music Education because of how music and past teachers impacted my life. I have always loved to help those around me and felt a deep connection with music, so I feel like there couldn't have been a better choice for me.
How are you maneuvering being a student during the COVID-19 pandemic?
It has been hard to manage school through our current COVID-19 situation but thankfully I have been able to maneuver all the obstacles due to the support of family and friends.
What are your greatest strengths and what are some challenges? 
I have always been an organized person with high work ethic - deadlines and getting assignments done was not an issue for me. I did face a lot of obstacles concerning internet connection however, especially considering how music is experienced very differently in an online format.
What do you hope to achieve beyond completion of your major?
I would love to come back to school and pursue both a masters and doctoral degree in music and/or theatre. 
What do you like most about UTRGV?
I love the rich Hispanic culture that is found here in UTRGV. I also have amazing professors who push me to become the best that I can be and help me with anything that I am struggling with or have questions about.

What does being a Vaquero mean to you?
To me, being a Vaquero means being proud of where I come from and being confident in who I am and the things I can do.

What opportunities has UTRGV helped you find throughout your community?
I have met and networked with so many amazing faculty and staff members within the School of Music. The reality is, many of my current friends will probably become my future co-workers; I am glad UTRGV has given me the opportunity to know and build connections with friends before heading out to the world.
What advice do you have for fellow students pursuing degrees during the COVID-19 pandemic?
Don't give up!! Things are different, but never impossible. If we give ourselves the freedom to adapt and have faith, anything you set your mind will be achievable. Don't ever be afraid to reach out to a friend, professor, or family member – even a small chat can go a long way during these times.