Sub Menu Toggle
Laura Segura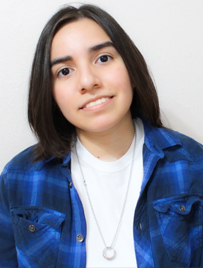 Name: Laura Segura
Age: 21
Major: Graphic Design
College: College of Fine Arts
Hometown: McAllen, TX
High School: McAllen High School 
Why UTRGV?
Choosing UTRGV was an ideal decision for me because I wanted to attend a college that is affordable and allows me to stay close to my family. Also, UTRGV has offered me great programs and opportunities for my future.
What made you decide on your current major?
Ever since I was a kid, I have always loved art and technology. I love to draw and play around with a computer, but I couldn't find a stable path to apply them until I took graphic design in high school and learned how to combine technology and art as a career. The world is running on a technology base system, so graphic design allows me to expand my horizons to visual communications.
How are you maneuvering being a student during the COVID-19 pandemic?
In every stressful situation, especially this pandemic, I always take things one step at a time. Nothing is going to move forward if I feel unmotivated or hopeless about the virus. So, I set up small goals every day to keep myself on track with my day-to day assignments.
What are your greatest strengths and what are some challenges? 
I would say my greatest strength is my persistence and my ability to be organized. I try my hardest to stay on top of things so I can complete my work in a timely matter. No matter the workload, I don't give up. However, I tend to second guess myself because I worry that I'm not doing the best, or there's something I could do better. I tell myself if I put in the work, everything will be fine.
What do you hope to achieve beyond completion of your major?
I see myself using what I learned and continue to improve my skills as I go on with my life. I can help local businesses and the community with my services to better market themselves.
What do you like most about UTRGV?
What I like the most about UTRGV is that it has offered me the opportunity to enter competitions with other students and universities. This helps me improve my skills and validates that I have chosen the right major.

What does being a Vaquero mean to you?
Being a Vaquero means to be proud to be a student of UTRGV.
What opportunities has UTRGV helped you find throughout your community?
UTRGV has offered me opportunities to work with individuals to help me develop my teamwork skills. In every work environment, you need to work as a team.
What advice do you have for fellow students pursuing degrees during the COVID-19 pandemic?
Time is strange, but we are adaptable to change. Take things one step at a time.