Sub Menu Toggle
Jannessa Perdomo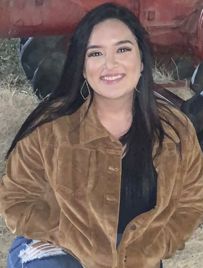 Name Jannessa Perdomo
Age: 22
Major: Psychology
College: College of Liberal Arts
Hometown: Brownsville, TX
High School: Hanna High School- Brownsville, TX 
Why UTRGV?
It allows me the opportunity to achieve a higher education without being away from family. I have a close bond with my family, so it was never an option to move away from home for college.

What made you decide on your current major?
My passion for working with others and helping them work through obstacles and difficult times in their lives is the greatest reward. The field of psychology has taught me all the tools and skills I need to be able to help those in need, while also allowing me to choose from a large pool of occupations as it is such a broad field.
How are you maneuvering being a student during the COVID-19 pandemic?
It was difficult for me at first since I must be physically in the classroom to be able to learn effectively. I learned to manage my time efficiently as well as make a planner my best friend.
What are your greatest strengths and what are some challenges? 
My greatest strengths include that I am so organized, it relieves my stress and keeps my life in order. I also love working and helping others and seeing them succeed is the greatest reward.
My challenges include that I tend to doubt myself a lot, I know that I am a hard worker but sometimes I let my own insecurities pick at me.
What do you hope to achieve beyond completion of your major?
I hope to be accepted into the master's program I applied to to learn new skills and further my knowledge in the field of psychology to be able to help others for a living.
What do you like most about UTRGV?
I like that UTRGV provides great opportunity for its students to continue their education. COVID took a big toll on me and all the grants and resources that were provided were a huge help.

What does being a Vaquero mean to you?
Being a Vaquero means unity. I love the bond the university shares with its students and faculty.

What opportunities has UTRGV helped you find throughout your community?
It helped me realize my career goals due to all the presentations they have, as well as the career info centers. I was also able to take several classes that narrowed down my options as to what I would like to pursue as a career.

What advice do you have for fellow students pursuing degrees during the COVID-19 pandemic?
To not doubt themselves and their abilities to push themselves harder. Nothing good ever came from staying in your comfort zone, and sometimes life has a way of forcing us out of our usual.