Sub Menu Toggle
Hasbanny Irisson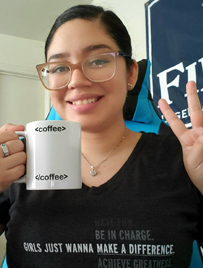 Name: Hasbanny Irisson
Age: 23
Major: Master of Science in Computer Science
College: College of Engineering and Computer Science
Hometown: McAllen, TX
High School: McAllen Memorial High School
Why UTRGV?
As a first-generation, low-income student, UTRGV provided me with the financial support and guidance I needed to be able to get a higher education. I received help filling out TASFA forms and received various scholarships throughout my undergraduate career. Now as a graduate student, I received the graduate sustainability fellowship from the UTRGV Office of Sustainability that helps with a large portion of my tuition costs. Overall, UTRGV made it possible for me to receive a higher education.

What made you decide on your current major?
As a senior in high school, I was sure I wanted to pursue a college education but lost as to what I should focus on. I have always enjoyed math and physics, so my initial plan was to go into civil engineering. My last semester, I enrolled in a dual- enrollment course at my high school that introduced me into coding and web development. I realized that I really enjoyed programming and wanted to continue learning about it.
How are you maneuvering being a student during the COVID-19 pandemic?
When I started my master's degree program, I did not realize how different it would be with classes being online. I took a year gap between both degrees, so it was a very difficult adjustment to make; I was accustomed to being able to knock on professors' doors when something did not make sense or meet with a study group at the university's library. All those things were not a possibility my first semester of grad school, so I felt lost for a good while. Fortunately, as the semester progressed, I was able to express the difficulties I was having to my professors and was met with great support. In addition, I was able to rely on the guidance of friends that were also pursuing graduate degrees. 
What are your greatest strengths and what are some challenges? 
Some of my greatest strengths include determination and resilience. As I struggled adjusting to graduate school in the middle of a pandemic, the only thing that kept me going was my determination of being successful. One of the biggest challenges I encountered was managing my time efficiently while working from home. I have never had the best time management skills, but during the pandemic this really affected me. I was able to overcome this by having a designated studying room, keeping a planner with due dates and checklists, and taking breaks in between continuous hours of work.
What do you hope to achieve beyond completion of your major?
Once I graduate with my master's degree, I am hoping to pursue a career as a data scientist and be involved in projects geared towards social good. Currently, I use my technical knowledge to help minoritarian groups, such as undocumented/DACA students, have an equal access to a college education through my work with non-profit organizations like Rise First and projects like the Dream STEM Initiative. I want to continue exploring the ways I can use data and technology to create a positive impact for vulnerable communities in the RGV.
What do you like most about UTRGV?
I love the sense of community and support I receive from professors and students at UTRGV. Professors like Dr. Tomai from the Computer Science department really go above and beyond for their students. Thanks to his support and guidance, attending graduate school became a reality for me. In addition, I am continuously inspired by the research topics from professors in CS. For instance, working under Dr. Ayati's supervision, I was able to explore bioinformatics and data science, and how to use them to tackle real-world problems.
What does being a Vaquero mean to you?
Being a Vaquero means being part of a diverse community that focuses on acceptance and the success of each member. I am proud of UTRGV's commitment to providing equal access to education for minoritarian groups such as undocumented, first-generation, low-income students.

What opportunities has UTRGV helped you find throughout your community?
UTRGV allowed me to engage with students with similar ideas and values as me. I was able to participate in clubs and projects that aim to use technical knowledge for social good, such as the Developer Students Club. During my undergraduate career, I realized I could use technology to advocate for undocumented communities, and women in male-dominated fields through products and services that directly benefit them. Ultimately, UTRGV helped me embrace who I am in every aspect of my life and allowed me to follow my passions. 
What advice do you have for fellow students pursuing degrees during the COVID-19 pandemic?
Prioritize your well-being and mental health. Online classes are very different from traditional classes and can really take a toll on your mental health. Assess your situation and only take as many courses as you can handle!