Sub Menu Toggle
Griselda Cuellar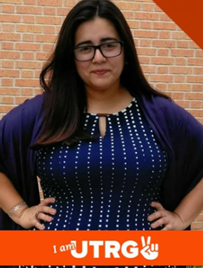 Name: Griselda Cuellar
Age: 25
Major: Master's in History
College: College of Liberal Arts
Hometown: Palmview, Texas
High School: Juarez-Lincoln High School 
Why UTRGV?
I decided to remain in the Rio Grande Valley because I firmly believe that the best way to give back to my hometown and community starts by promoting our own educational system. UTRGV is the best institution that would equip me so that I may be a productive member of the Rio Grande Valley. The RGV has given me so much and I wish to pay that back one day.
What made you decide on your current major?
I have always been invested in understanding the development of past events to understand our current time. However, I decided to major in history after taking the prerequisite history courses at STC. The history professors there spoke with such passion about their specific fields of study that I began to love history beyond that of a past time or favorite subject.
How are you maneuvering being a student during the COVID-19 pandemic?
Due to the pandemic our normal student activities and life has changed. I have learned that it is important to maintain communication with classmates and professors. This helps me learn as if I were in the classroom. In addition, it creates a network that allows us as students to better understand class material, participate, and not feel overwhelmed by our current predicament. Because most classes are online, I have taken the initiative to contact classmates and reach out everyone wants to succeed, and we help each other out.
What are your greatest strengths and what are some challenges?
Because of Covid-19 I have put into practice my organizational skills to a whole new level. It is important to focus on one day at a time, otherwise schoolwork becomes an overwhelming task rather than a fun and learning one. I know that for some classmates and myself having steady internet connection has proven difficult, especially with the change in weather. In addition, the economic hardships faced by Covid-19 have caused some difficulties. However, it is important to reach out to friends and family who might be able to provide emotional support and encouragement, as well as finding the resources that we need to succeed. 
What do you hope to achieve beyond completion of your major?
My plans after the completion of my major are doctoral studies as well as the possibility of teaching history. I would like to teach at the college level or high school. I would also like to contribute to the Rio Grande Valley's environmental history studies. 
What do you like most about UTRGV?
The history professors are the reason I decided to enroll in UTRGV's graduate program. After completing my bachelors, I realized that I would not find a more caring and better suited group of academically prepared individuals to guide me in my studies. In addition, the student body is diverse and there are many organizations to be a part of.
What does being a Vaquero mean to you?
Being a Vaquero means that I am a member of an outstanding student body dedicated to higher learning and giving back to the community. I have learned at UTRGV that it is important to give back to our community. To improve our schools and community. Being a Vaquero is being a part of something bigger and greater and noble. 
What opportunities has UTRGV helped you find throughout your community?
UTRGV has given me the opportunity to be a Sustainability Fellow and work on a project that will contribute to the sustainability goals of the university in accordance with those of the United Nations Sustainability Development Goals. This project and opportunity have allowed me to work more with history professors and meet other great individuals who have enriched my academic experience at UTRGV.
What advice do you have for fellow students pursuing degrees during the COVID-19 pandemic?
Prioritize your wellbeing and health. The pandemic has affected many areas in our life. Therefore, it is important to be mindful of others and ourselves in these difficult times. Personally, I have found that giving back to others has helped my wellbeing and improved my work quality. I am a member at, Templo La Hermosa, a church that distributes food to the homeless community in McAllen. Following health and safety protocols we can help those in dire need of assistance in these difficult times. Doing something for someone else has given me a different perspective. It does not have to be a grand gesture but thinking of others and doing acts of kindness is good for us.