Sub Menu Toggle
Azael Garza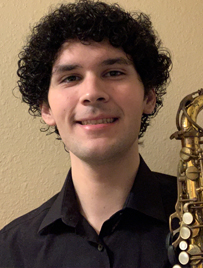 Name: Azael Garza
Age: 22
Major: Music Performance
College: College of Fine Arts
Hometown: Mission, Texas
High School: Sharyland High School 
Why UTRGV?
I did not plan to attend UTRGV but decided to because of its cost and distance from home. My plan was to spend a few semesters and transfer. As I spent time at the university with my professors, peers, and friends, I began to see the growth of UTRGV, the dedication of my professors, and the opportunities that UTRGV has to offer so I decided to stay.
What made you decide on your current major?
Deciding what to major in took a lot of introspection. As I began to research majors and universities, I could not develop interest in any major that I researched. I grew worried that I would choose a career I was not passionate about and pursue it just to land a job and work mindlessly until retirement. Weeks before deadlines, I took a weekend off to really think of what my interests and passions were. I realized that music has been one of my biggest constant passions, and if it there is one thing that I could dedicate the rest of my life to, it would be music. Thankfully, I have very supportive parents who encouraged me to pursue my passions and that support me every step of the way.
How are you maneuvering being a student during the COVID-19 pandemic?
I try to be as attentive and involved in my classes as I can, trying my best to adapt to online learning and practicing at home. One thing that I found very important was to take breaks. It is easy to spend the day in your desk attending classes, doing homework, and practicing. Reminding myself to take breaks has greatly helped me maneuver around online learning.
What are your greatest strengths and what are some challenges? 
My greatest strength is my persistence. Even though we are in a new learning environment, I always push forward and try to learn along the way. However, the biggest challenge has been adapting to online learning. I do not do well when studying and practicing at home. Having to adapt to these changes has been an ongoing battle, but it is something that gets better little by little.
What do you hope to achieve beyond completion of your major?
I am currently in the process of applying for graduate assistantships for after I complete my bachelor's degree. After graduate school, I will pursue a doctorate with plans to be a professor of either composition or saxophone.
What do you like most about UTRGV?
By far, it has been my professors and the people I have met and friends I have made. Every single professor that I have had has been very knowledgeable, attentive, compassionate, and have been great mentors. They, along with my friends and peers, have pushed me to be a better student, musician, friend, and to strive to be the best version of myself. 
What does being a Vaquero mean to you?
Being a Vaquero is to have pride, be tenacious, and to be part of a growing community that will support you and provide opportunities and resources.
What opportunities has UTRGV helped you find throughout your community?
During my time at UTRGV, I have had many unique performance and teaching experiences that I am very thankful for. My most memorable performance, teaching, and collaboration opportunities have been traveling to and performing at the 2018 World Saxophone Congress, working with a local middle school as a saxophone consultant, and collaborating with the UTRGV double bass studio as a composer. Without the help of UTRGV and my professors, these experiences would not have been possible. 
What advice do you have for fellow students pursuing degrees during the COVID-19 pandemic?
I think that it is important to have your mental health in check, especially during these times.  Being in front of your devices for most of the day while going out the least amount possible takes a really heavy toll on you, both mentally and physically. Things that I do and that I believe are crucial for staying healthy are eating well, giving yourself breaks when needed, sleeping well, exercising when possible, focusing on your hobbies, setting small goals while on track to your big goals, and staying connected with family and friends. In the end, everything you will go through will be valuable learning experiences and will make you proud of earing your degree.