Sub Menu Toggle
Armando Garces III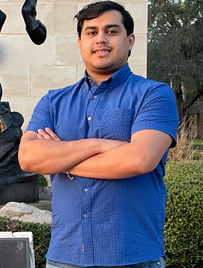 Name Armando Garces III
Age: 25
Major: Master of Science in Biochemistry and Molecular Biology
College: College of Health Professions
Hometown:  McAllen, TX
High School: McAllen High School 
Why UTRGV?
I chose UTRGV because it gave me an opportunity to stay close to home and it allowed me to pursue a degree at an affordable price. If it weren't for UTRGV I probably wouldn't be in the position I am in today.
What made you decide on your current major?
What interested me in this master's program was my desire to get a better understanding of how the body functions. As our technology continues to improve our understanding of our bodies at a molecular level increase as well. I am very interested in how biotechnology can help us understand diseases we currently do not have a solution for. My family has a history of Alzheimer's disease and this program has allowed to do research using some of this technology to understand how the body is affected.
How are you maneuvering being a student during the COVID-19 pandemic?
I've had a lot of guidance through this pandemic; Zoom meetings became the new norm and it has allowed me to continue to work toward my goals. My program coordinator and professor, Dr. Michael Persans, has made an unbelievable effort to ensure we stay on track. Of course, these tough times help us appreciate what we have a lot more, especially regarding our family and community. Just understanding that its just not me going through this but the entire world keeps my drive alive. I've learned to appreciate time management, as it is the key to success, in my opinion.
What are your greatest strengths and what are some challenges? 
Some of my greatest strengths is understanding that there are things I do not know but at the same time having enough confidence in the things I do. Perseverance is a quality I have once I decide I want to do something; there is not much that can stop me I don't have a problem dealing with adversity. Like many people some of the greatest challenges during this pandemic is staying healthy both mentally and physically. 
What do you hope to achieve beyond completion of your major?
I hope that after completing this master's program I will be better prepared to tackle some of the health issues we have in the RGV. I also hope to be accepted into a medical program to continue my education to give back to community.
What do you like most about UTRGV?
I like that UTRGV gives the people of the RGV the opportunity to continue their education and receive degrees. The faculty is awesome, and I've had the opportunity to be taught by some very bright professors from many departments. 
What does being a Vaquero mean to you?
The fact that I was born and raised in the Valley instills a lot of pride in me. Proving that you don't necessarily have to leave the Valley to receive a quality education brings me joy.

What opportunities has UTRGV helped you find throughout your community?
I've had the privilege to be a part of some professional developmental programs thanks to Dr. Parwinder Grewal, EVP of Research, Graduate Studies and New Program Development. Both the sustainability leadership program and the sustainability fellowship have allowed me to meet some of these community leaders and I have gotten the opportunity to listen to what they have done and the process they had to go through to achieve their goals. This helped me appreciate the community a lot more while preparing my fellows and I to be a part of the change. Most importantly I have been given the opportunity to do research on Alzheimer's disease which has affected my family in recent years. Dr. Upal Roy has given me the opportunity and the tools needed to do this kind of research. I've worked very closely with professors from other departments like Dr. Hansapani Rodrigo of the School of Mathematical and Statistical Science which has thought me the importance of statistical analysis to identify important factors in my research through computational biology.
What advice do you have for fellow students pursuing degrees during the COVID-19 pandemic?
My advice to other students is to not give up and not to be afraid to make mistakes. I have made mistakes and I have had to retake some classes I think its all a part of being a student. Things will get difficult at times, but you can get through it.