Sub Menu Toggle
Anitha Narayanan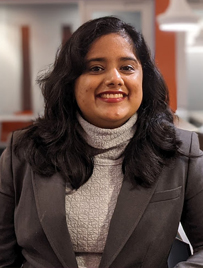 Name:  Anitha Narayanan
Major: Master's in Manufacturing Engineering
College: College of Engineering & Computer Science
Hometown: Palakkad, Kerala, India
High School: Vijayamatha Convent HS School, Palakkad, India
Why UTRGV?
The uniqueness of this university is what really appealed to me. In comparison to other universities, UTRGV fees are much more affordable to the students along with a higher chance of getting on campus employment like assistantships as well as scholarships. The best thing about UTRGV is the college system, which offers quality education and exhibits a convenient and caring environment for its students. The staff along with faculty members are so companionable, accommodating and readily accessible to answer all questions and concerns.
What made you decide on your current major?
The Manufacturing Engineering Department of UTRGV seizes its position to pursue pioneering research and create innovative collaboration opportunities that contribute to the betterment of our world. My hope is that my first master's degree in Photonics and prior research experience in Manufacturing Engineering will help me attain my dream-goal of becoming an accomplished researcher in the field of Manufacturing Photonics.
How are you maneuvering being a student during the COVID-19 pandemic?
I had trouble adapting to the Zoom classes and pre-recorded lecturers for the initial couple of months of the pandemic. It was a challenge all of us had to overcome together, students and professors alike, as a team and I am proud that we were all able to step up during this tough and pretty unusual year. My professors have been extremely helpful and supportive throughout the pandemic.
What are your greatest strengths and what are some challenges? 
After the past year, I would say it's my ability to smile through the most difficult of situations and find happiness in the bleakest of times. It has been a difficult year, being so far away from my parents, unable to help them during quarantine situations and always being worried for their health. Thankfully technology today allows us to see each other through video calls even though they are literally on the other side of the world.
What do you hope to achieve beyond completion of your major?
After getting my PhD, I hope to devote my life to contributing towards the advancement in the field of Manufacturing Photonics by becoming a successful researcher.
What do you like most about UTRGV?
The professors are extremely patient as they are always willing and inclined to take time out of their busy schedules whenever I need help. UTRGV feels like a close-knit community rather than a university. People have been very welcoming and as an international student, I really appreciate it.

What does being a Vaquero mean to you?
I feel very proud and glad to be a Vaquero because it is a great school with a wide range of course options with extremely accomplished professors. Being a Vaquero means being included in a group of people that have strong desires, goals, and work hard to attain them. It gives me a sense of belonging.
What opportunities has UTRGV helped you find throughout your community?
I used to have bad stage fright. When you combine that with English being my third language, it made for some very awkward and sometimes hilarious interactions. Being a teaching assistant for my first year in the university forced me to interact with students from all walks of life and helped improve my social skills. I think, as much as my students learned from me, they may have ended up teaching me a lot more. It has really helped me grow as a person.
What advice do you have for fellow students pursuing degrees during the COVID-19 pandemic?
My advice to fellow students is to try to be optimistic. This has been a hard year for all of us and it's very easy to lose sight of the bigger picture. It has shown that we are stronger than any obstacle that life throws at us. Instead of concentrating on the isolation that we have had to face, try utilizing the extra time to spend with your loved ones. Soon we will graduate, find new careers, and move on. And always remember you are not alone. We are Vaqueros and will always be there for each other.