Sub Menu Toggle
Anayi Lenise Garza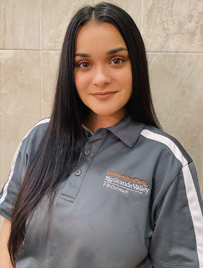 Name: Anayi Lenise Garza
Age: 22
Major:  Rehabilitation Services
College: College of Health Professions
Hometown: Rio Grande City, TX
High School:  Rio Grande City High School 
Why UTRGV?
I wanted to stay close to home while attaining a quality education, and that is just one thing that UTRGV was able to offer me that no other school could. I've come across some incredible faculty, staff, and classmates throughout the years that I have learned so much from as a student and professional. UTRGV has provided me with amazing opportunities which I'm very thankful for. 
What made you decide on your current major?
I was minoring in Rehabilitation Services when I first entered college, but I took my first rehab class with an amazing professor, Dr. Blanca Robles, who left such a positive impact on me and I decided to change it to my major after that. Once I learned more about the how this major focuses on providing services to individuals in need, I knew this is what I wanted to do and was confident that the program would prepare me well for my future career.  
How are you maneuvering being a student during the COVID-19 pandemic?
Having to adjust to being a student during a pandemic was not easy. Time management became especially important during this time. I make sure that I put enough time aside to complete any tasks or assignments that need to get done for school, work and/or clinicals. Staying organized and planning my weeks in advance has really helped me maneuver being a student during the COVID-19 pandemic.
What are your greatest strengths and what are some challenges? 
I believe that my greatest strengths due to the pandemic are adaptability and perseverance. I was able to adapt to a new learning and work environment while maintaining good grades throughout the year. Prioritizing my mental health is something that I have had to work on more during the pandemic because it was easy to become anxious and overwhelmed. 
What do you hope to achieve beyond completion of your major?
I'm currently in the middle of completing my application for graduate school. I want to get an MS in Clinical Rehabilitation Counseling so that I can eventually become a Licensed Professional Counselor. I've been completing my clinical hours at GR&E Mind Evolution All Purpose Center PLLC with Ms. Gina Ramirez, LPC, and I have enjoyed it very much so far. I'm looking forward to being able to offer services to those with mental health issues and leaving a positive impact on their lives. 
What do you like most about UTRGV?
What I like the most is the fact that UTRGV has limitless opportunities to offer. My professors in the Department of Rehabilitation Services and Counseling, supervisor and coworkers have made my experience here at the university one that I will never forget. I do have to point out that UTRGV has done a wonderful job in taking care of its faculty, staff, and students during the pandemic.
What does being a Vaquero mean to you?
Being a Vaquero means being proud of where I come from. It means being part of a supportive community that is hard working and determined. Being a Vaquero inspires me to represent my community and make a change as I further my career in Rehabilitation Services.
What opportunities has UTRGV helped you find throughout your community?
One opportunity that I will cherish forever is my current job with P-16 Outreach and Testing Services. It has been such a great experience working under an amazing supervisor, Mrs. Lorena Roxburgh, and each of my coworkers that have helped me get way out of my comfort zone and grow as a person. Working as a mentor in the Mother-Daughter program has been so rewarding because not only do we teach them the importance of higher education to middle school girls, but we help strengthen the bond between them and their mother. I'm so grateful to have met such wonderful, supportive people during my time here.
What advice do you have for fellow students pursuing degrees during the COVID-19 pandemic?
Some advice I have for fellow students pursuing degrees right now is to keep pushing and never give up no matter how discouraging times might be right now. It can be very hard to find the motivation to get coursework done from home, so it's important to stay organized so you don't become overwhelmed. Prioritizing your mental health is also very important, so if you ever feel like you need help, don't feel ashamed to ask for it.