Sub Menu Toggle
Alfredo Robles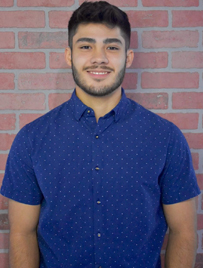 Name: Alfredo Robles
Age: 21
Major: Exercise Science
College: College of Health Professions
Hometown: San Juan, TX
High School: South Texas High School for Health Professions, Mercedes, TX 
Why UTRGV?
I'm extremely thankful for everything I was able to learn from the great staff at UTRGV, and I feel blessed for having the opportunity to grow as a person and professional here. I chose to attend UTRGV because the university was so close to home, and it would allow me to spend more time with my family. After researching universities that offered the program of studies I was interested in, I quickly learned that UTRGV was an excellent option. It allowed me to graduate with no debt and start a new path to something greater.

What made you decide on your current major?  
Attending a magnet high school that focused its program on health professions, helped me decide on a major in Exercise Science concentrated in Physical Therapy. Senior year of high school, I had the chance to shadow physical therapists at different hospitals. Seeing how people would progress through the rehabilitation process really inspired me to have that sort of impact on people within my community. I'm very passionate about sports and athletics, so when I found out that I could tie both being active and a health professional, I decided to pursue this path. Now I am leaning towards becoming a chiropractor. Knowing that I learn best being hands on, this profession will lend itself for me to provide personalized practice and allow me to have a tremendous impact on others.
How are you maneuvering being a student during the COVID-19 pandemic?
Maneuvering through this pandemic at first was very complicated. Having to adjust to watching pre-recorded lectures, and not being able to ask questions or get feedback right away, was something I struggled with the most. But in the end, I knew I had to prioritize and concentrate on getting my work done by dedicating some time out of my day strictly for studying. This was of great benefit because I was forced to make a schedule, which grew into a habit at the end. 
What are your greatest strengths and what are some challenges? 
My greatest strengths I believe are my perseverance, prioritization, and initiative. These came in handy during the pandemic. Being home most of the time, I just wanted to relax and not do much, which proved to be extremely challenging to get over. Having the initiative to prioritize my work really allowed me to be successful during the spring, summer, and fall semester this year. 
What do you hope to achieve beyond completion of your major?
My desire is to be selected for a chiropractor program either here in state or out of state. Upon completion of the program, I would like practice as a chiropractor, hopefully abroad for some years, and then open my own practice or work with a professional sports team. I would like to have an impact in different places and cultures; simply to give back to the community. I believe that putting my best effort to be a great example, will help inspire my family and others to strive to be the best they can in what they set out to do.
What do you like most about UTRGV?
Out of all the things there are to appreciate about UTRGV, what stands out the most is the community, this includes all the staff, students, professors, and everyone in between that make the school run the way it does. The people here are caring and want to see you succeed in your academic, personal, and professional life. I believe this is a quality that is difficult to find anywhere else.
What does being a Vaquero mean to you?
Being a Vaquero means being selfless because when one is accepted to UTRGV, you have a whole community and family behind you wishing you the best and guiding you through the journey. Having to excel not only for yourself, but for those support groups you have in your life, is very much something to take pride in. For me, my dad is my main pillar who motivates me to get my studies done and continue to work hard. I always think about him in everything I set out to accomplish for myself to make him proud, so being a Vaquero is also family.
What opportunities has UTRGV helped you find throughout your community?
UTRGV has afforded me a great deal of opportunities. The one I'm most grateful for is the job I currently hold. This job has allowed me to grow as a person, a friend, a son, and to have a great impact in my community. Being a Father-Son Mentor at P-16 Outreach and Testing Services provided me the opportunity to get out of my comfort zone and meet wonderful people along the way; all while having an impact on my community and being able to teach younger generations and their parents about the importance of higher education. I'll always be grateful for having wonderful coworkers and an amazing supervisor, Mrs. Lorena Roxburgh, who has been there with me and given amazing advice throughout my time at P-16 Outreach.
What advice do you have for fellow students pursuing degrees during the COVID-19 pandemic?
My advice to others would be to find something they enjoy doing at home. For me, staying in communication with friends and family kept my brain active. Socializing with friends through phone, Zoom, and video games helped me maintain a positive mindset through this pandemic. H­­­­­aving those distractions encouraged me stay focused and healthy at home.