Sub Menu Toggle
Alejandra Santos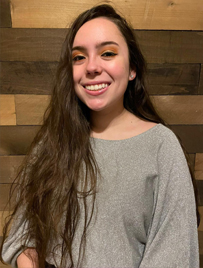 Name: Alejandra Santos
Age: 22
Major: Computer Science
College: College of Engineering & Computer Science
Hometown: San Juan, TX
High School: South Texas High School for Health Professions 
Why UTRGV?
There are so many reasons why I chose UTRGV. The thing that attracted me the most about UTRGV was its proximity to home. I have always appreciated the love and support from my family and friends. As a college student living in the Valley, I am fortunate enough to enjoy the best experiences this culture has to offer, and I am able to see the ways in which my community needs my help. UTRGV is also the second largest Hispanic-serving institution in the nation. It offers some of the most valuable university experience in the entire country. It is extremely empowering seeing so many students from different backgrounds work hard in order to achieve their dreams.
What made you decide on your current major?
It all started in high school when I was first introduced to computer science. Since the beginning, computer science has been challenging and difficult. In my first class, we had one assignment in which I clearly remember that I felt like I didn't know what I was doing. But once my code worked, I started crying tears of joy. That feeling was amazing! I felt like I could do absolutely anything that I set my mind to. In that instant, I knew that I wanted to spend the rest of my life studying computer science. Studying computer science has opened many doors for me, and every single day I am grateful that I chose it as my major.
How are you maneuvering being a student during the COVID-19 pandemic?
Going to school full-time and working two part-time jobs was challenging at first. However, UTRGV has ensured that I have the best possible learning experience by providing so many resources for students to be successful. Additionally, UTRGV has also offered many virtual events through Student Activities so students can still attain the "college experience". 
What are your greatest strengths and what are some challenges? 
I have always had a propensity for being able to manage my time efficiently. Those skills have never been more helpful than during this pandemic. Planners, bullet journaling, and Google Calendar have been my best friend! Doing everything remotely has made me adapt to the circumstances. Since I have classes and work meetings via Zoom, people don't necessarily have a way of knowing what exactly I have been working on. Therefore, I have learned to communicate efficiently. I sometimes even overcommunicate so that way everyone is on the same page. By doing this, I can sometimes even forget that my peers are not here in the same room as me! Another challenge with distant learning and working remotely, is that most of the time my entire family is in the house as well. Sometimes during meetings or during class, you can hear my dog barking or my parents talking! They have sometimes even walked in while I am giving a presentation! I was able to look at the bright side of the current situation and I have been able to manage being a full-time student alongside having two jobs.
What do you hope to achieve beyond completion of your major?
I would love to encourage more women to continue pursuing a degree in computer science. I currently work with the non-profit organization Girlstart, which focuses on bridging the gender gap by empowering elementary school girls in Science, Technology, Engineering, and Math (STEM). Because of this, my greatest ambition has become to one day be in a position in which I can serve and empower people to own their story and go after their own dreams and aspirations.
What does being a Vaquero mean to you?
To me, being a Vaquero means being a part of a community filled with diversity and culture that focuses on building each other up and achieving our dreams. I am honored to be a part of an institution that helps first-generation students and individuals with low-income resources get a college education. I am so proud of my roots and I always try my best to represent UTRGV through my values and my work ethic.
What opportunities has UTRGV helped you find throughout your community?
UTRGV has helped me find community through Campus Activities Board. As the Cultural Committee Chair, I'm responsible for programming cultural events that enhances and celebrates diverse cultures found within UTRGV. Through those events, students get a chance to enjoy programs that bring awareness of social and global issues that better enhance their educational experience. UTRGV has also blessed me with the opportunity to work under Dr. Megan Strait. Her work emphasizes on Human-Robot Interaction, and I was extremely grateful to represent her both her work and UTRGV at the 2018 Human-Robot Interaction Conference in Chicago, IL.
What advice do you have for fellow students pursuing degrees during the COVID-19 pandemic?
The biggest advice that I can give to any students, regardless of the COVID-19 pandemic or not, is to keep your mental health a priority! UTRGV offers free Mental Health Counseling at the Counseling Center. Your mental health is what impacts your thoughts, behaviors, and emotions. By keeping your mental health in check, you will be able to be more productive and effective in both school and work!