Sub Menu Toggle
Yaw Sam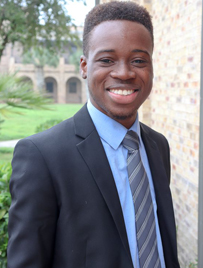 Name: Yaw Sam
Age: 23
Major: Marketing
College: Robert C. Vackar College of Business & Entrepreneurship
Hometown: Western Region, Ghana, West Africa
High School: St. Augustine's College, Cape Coast, Ghana 
Why UTRGV?
UTRGV is close to home for me and having the opportunity to stay with family and attend a good university checked the mark for me. After doing some research, I decided to choose UTRGV also because of the university's values.

What made you decide on your current major?
I have always loved marketing and entrepreneurship and so I wanted to turn my passion into something I can study and gain more knowledge in. I am fascinated by what social media can do and its impact, so I chose to study marketing so I can contribute to the field through my passion.
What do you hope to achieve beyond completion of your major?
After completing my degree, I want to pursue higher education. As an entrepreneur, I have always wanted to contribute to the world by building a sustainable business which is why I will also continue working together with my partner on a mobile app for college students to help increase college retention and engagement rates, while addressing mental health issues. This project started in Fall 2019 and we have seen so much support and progress so far. 
How are you maneuvering being a student during the COVID-19 pandemic?
Being a student in this crisis is not easy and I know a lot of other students are having difficulties as well. Personally, I am choosing to stay as positive as possible to help me throughout the crisis.
I believe in the power of mindset and I am using that to my advantage to help me be in the right state of mind towards my classes. I also realized that I need to document and plan my day very well to be able to keep up with my classes, which has been a big challenge for me. 

What does being a Vaquero mean to you?
Being a Vaquero means being respectful, having integrity and being honest. This is something I personally value and hold dear for myself. As an institution that promotes student involvement and student leadership, I can say being a Vaquero means being able to embody the characteristics of leadership.

What opportunities has UTRGV helped you find throughout your community?
UTRGV has provided so many opportunities for me! Having the honor to serve as a Student Government Senator for the Robert C. Vackar College of Business and Entrepreneurship has been an impactful moment for me. I've also had several internships and job opportunities through the experience I have received in my time at the university.

What advice do you have for fellow students pursuing degrees during the COVID-19 pandemic?
One thing we all need to remember and take into consideration is that history will remember us for how we reacted during this crisis. In this time, it is important to stay positive! While staying positive, reach out and ask for help when you need it. Remember, we are all going through this together, and we are going to be there for each other. The fact that you are currently pursuing a degree or dream of yours shows how resilient you are. Let us keep the spirit high and stay committed to the end goal.