Sub Menu Toggle
Stephanie Ayala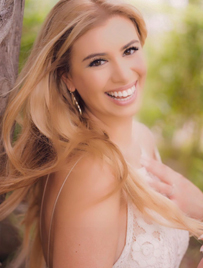 Name: Stephanie Desiree Ayala
Age: 29
Major: Bachelor of Science in Addiction Studies
College: College of Rehabilitation Studies and Counseling
Hometown: San Antonio, TX
High School: James Madison High School in San Antonio, TX 
Why UTRGV?
UTRGV is completely different than other UT campuses and is unique in the sense of how close the community is. I have toured other campuses within the same university school system and did not find one quite like UTRGV. The staff along with faculty members are so friendly, helpful, and readily available to answer all questions and/or concerns.

What made you decide on your current major?
I chose my current major because I am in recovery from a substance use disorder. Prior to attending UTRGV, I was a psychology major and knew I wanted to help others. However, I just did not know how I wanted to help people until I went into recovery. I decided to pursue a major in Addiction Studies, because I would like to eventually become a licensed chemical dependency counselor. Helping others who are trying to achieve sobriety has been a life giving and phenomenal experience.
How are you maneuvering being a student during the COVID-19 pandemic?
As a student, I feel much more disciplined and focused during the COVID-19 pandemic. Currently, I reside in San Antonio and it is one of the cities in America with the highest cases. I have a healthy fear and do my part by wearing a mask along with engaging in proper hygiene to avoid contracting COVID-19. Along with following CDC recommendations, I study at home instead of going to local libraries as I did prior to the pandemic.
What are your greatest strengths and what are some challenges? 
My greatest strengths during the COVID-19 pandemic include remaining positive, having a healthy fear of the virus while exercising good judgment, remaining available to friends along with family members when they need someone to talk to and being of service to those in need, such as offering groceries to families or individuals who are in need. Some challenges are avoiding feeding into an unhealthy fear of COVID-19 and allowing it to cause a great deal of anxiety, which feels consuming at times. 
What do you hope to achieve beyond completion of your major?
After I earn my Bachelor of Science in Addiction Studies, I plan on applying for my Master's degree in Psychology or Clinical Mental Health Counseling at a few different universities. I would love to become a counselor and specialize in providing services for those with a substance use disorder. I would also love to own and operate sober living homes for women, because I feel that a lot of women need loving support along with financial assistance during the transitional period of rehabilitation and moving forward with their lives. 
What do you like most about UTRGV?
I absolutely love the Addiction Studies and Rehabilitation Studies faculty at UTRGV. Instructors are extremely hands-on, and I don't feel like I am just another number. They go above and beyond to make sure each student understands course material. They also allow so many opportunities to become very involved with events and clubs that are on campus. It is an amazing experience!

What does being a Vaquero mean to you?
Attending UTRGV as a Vaquero has allowed me to have a lot of school pride because of how close and unique the campus is. Students and faculty are truly so kind and welcoming. It is hard not to have school pride!

What opportunities has UTRGV helped you find throughout your community?
I have been an officer for Aspiring Substance Abuse Professionals (ASAP) since I began attending UTRGV. ASAP is a club for all majors, and through that club alone, I have become close to the faculty from the School of Rehabilitation Studies and Counseling. I have attended weekly club meetings virtually due to the fact that I live in San Antonio. I went to an informative seminar on becoming a licensed chemical dependency counselor at UTRGV. Last year, I won a scholarship for students in recovery and was nominated by the head of the Addiction Studies Department, Dr. Blanco. Recently, I sat in on two different Zoom meetings and one was answering questions along with sharing my experience of being an Addiction Studies major to prospective students. The other Zoom meeting discussed information in regard to counseling from licensed professional counselors and it was very enlightening. These opportunities have been extremely beneficial for my future and these opportunities allow me to look forward to future semesters!
What advice do you have for fellow students pursuing degrees during the COVID-19 pandemic?
My advice for fellow Vaqueros is to stay calm and do our part to keep ourselves, along with others, safe. Please reach out if you need any assistance regarding your physical or mental health during these difficult times! You are important.