Sub Menu Toggle
Nicholas Gutierrez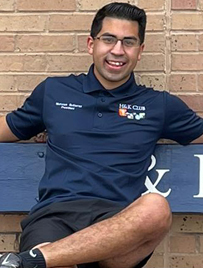 Name: Nicholas Gutierrez
Age: 25
Major: Exercise Science
College: College of Health Professions
Hometown: Mercedes, TX
High School: Mercedes High School, Mercedes, TX 
Why UTRGV?
I decided to attend UTRGV mainly because I am able to stay close to home. The support of my mother, Lisa Hernandez, and grandpa, Amado Hernandez, make everything possible for me. With my four years of experience at UTRGV, it's safe to say that this university also brings a warm and cozy feeling, just like home.
What made you decide on your current major?
I ultimately chose this field because of the unlimited amount of passion that I have for exercising and playing sports in general. With my love for these extra-curricular activities I want to be able to set the example and spread the importance of staying physically active to people all over to "keep your life in motion"! Exercise is the BEST drug! I also do see myself as being a great role model and mentor for the future generations to come. I've always loved helping others and being able to see them succeed would bring a warm and humbling feeling to me on the inside knowing that I was able to help them grow and make a difference in their lives just like many throughout my life have with me. In my humble opinion, finding a mentor is VERY important.
How are you maneuvering being a student during the COVID-19 pandemic?
Staying motivated; the beauty of one day earning my degree and being one step closer to my goal lights a fire in me to continue to stay hungry.
What are your greatest strengths and what are some challenges? 
My greatest strength during these times is staying motivated and being organized, especially when it comes to my classes. Being ahead of the game pays dividends in experiencing less stress. However, the challenge lies in the fact that my learning and shadowing opportunities have suffered. I have always been old school and preferred being in the classroom because it is here where I am able to optimize my learning.
What do you hope to achieve beyond completion of your major?
My ultimate goal is to one day obtain my master's degree in Exercise Science here at UTRGV to become a college professor and work together with all my former college professors' teaching here within the Department of Health and Human Performance. I see all the passion and fun that they exhibit while they're doing their thing, Ms. Danessa Peterson and Coach T have proven this to me, and I want to be able to share that same feeling, as well, along with influencing the future generations to come. I also want to train athletes; therefore, another goal of mine is to obtain a CSCS certification (Certified Strength and Conditioning Specialist). This won't be an easy task, but it's a challenge I'm willing to accept and go at with full force. My former professor, Mr. Gavino Garza, shared the importance of "making every day your Friday" when it comes to your career and that is exactly why I want to go this route.
What do you like most about UTRGV?
Being able to be spend time with all my friend's whom I've come to call family. It is because of them that I was able to build a rewarding and worthwhile college experience, they've influenced me just as much as I influenced them.
What does being a Vaquero mean to you?
Representing the Rio Grande Valley is what it's all about! A lot of people tend to overlook us just because we aren't the fanciest of schools but being able to prove that we can make something of ourselves here is worth throwing our V's up! 
What opportunities has UTRGV helped you find throughout your community?
I've learned and realized my potential as a leader. UTRGV has helped me achieve this through my involvement with the Health & Kinesiology Club. A small nonprofit organization that prides itself on volunteering and giving back to the community. The H&K Club opened up a lot of new pathways for me such as learning what it takes to lead, and not just lead but to lead by example. Through here I have expanded my mindset and met a great group of individuals who I can now call family.
What advice do you have for fellow students pursuing degrees during the COVID-19 pandemic?
It's simple, don't give up, these times may be stressful but soon it will be over. Stay motivated and stay hungry, never forget where and why you started in the first place, coming this far wasn't an accident.