Sub Menu Toggle
Mayra Hernandez-Arredondo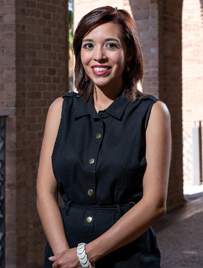 Name: Mayra Arredondo
Age: 28
Major: ESL Education
College/Department: College of Education & P-16 Integration
Hometown:  Mission
High School: Mission High School  
Why UTRGV?
I chose UTRGV because it has always been the school I wanted to attend. I first started off at STC, but knew my goal was to be accepted into UTRGV. Coming to UTRGV also meant I could stay close to home, which is very important to me. UTRGV has a great community and a great environment. The faculty and staff are always helpful and considerate. 
What made you decide on your current major?
My current major was not something I had originally thought I would be going for. I had wanted to graduate as a generalist in education, but during my courses here at UTRGV I noticed how important it is to have teachers who help students whose first language is not English. They need help in reading, writing and speaking. I look forward to helping these students succeed, because I know through personal experience how challenging it is to learn a second language.
What do you hope to achieve beyond completion of your major?
After completion of my major I plan to go for my masters and hope to become a school counselor. 
What do you like most about UTRGV?
UTRGV is a great campus on its own. I have enjoyed every semester because of the great professors. The two opportunities that I have been given are being involved with the Child Development Center and the Step-Up Program. I can come to school with ease knowing my children are in a great facility. The staff at the Child Development Center are amazing. I am also currently in the Step-Up Program, which allows me to learn from my mentor teacher for a whole school year. 

What does being a Vaquero mean to you?
Being a Vaquero, to me, means to keep challenging yourself every day. We all go through some challenges, but we must keep pushing forward.
What opportunities has UTRGV helped you find throughout your community?
UTRGV has helped me find a great job here on campus. The staff members understand how important school is and they work with your schedule. UTRGV has opened many opportunities for me to develop more as a person and in my future career. The Step-Up Program has been one of the most influential programs that I am honored to be a part of. 
What are a few of your favorite books?
I can read for hours; I am currently still finishing up a series by Julie Kagawa. She is one of my top authors, anything she writes will be on my must-read list. My favorite book will always be "The Two Princesses of Bamarre" by Gail Carson Levine. It was my first book I ever read, and I became drawn to reading books in the same genre.
What's in your playlist right now?
I love every kind of music from classical, pop country to rock. Right now, I'm listening to anything by Katy Perry or Taylor Swift.