Sub Menu Toggle
Marlissa Saldana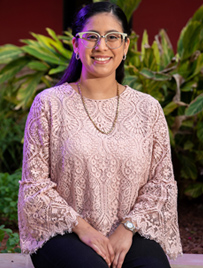 Name: Marlissa Saldana
Age: 19
Major: Bachelor of Science in Nursing (currently applying to the UTRGV Nursing Program)
College: College of Health Affairs
Hometown: Brownsville, Texas
High School: South Texas Academy for Medical Professions 
Why UTRGV?
As a concurrent enrollment student of UTRGV throughout high school, I saw the opportunities that UTRGV had to offer. UTRGV not only allowed me to stay close to my family, but to my culture as well. I like that UTRGV has a nursing program that will allow me to study and give back to my community.
 
What made you decide on your current major?
I always knew that I wanted to be in the medical field. Being greatly inspired by my uncle who's a nurse, I decided to attend Medical Academy. This high school gave me many opportunities like obtaining my Medical Assistant Certification. Throughout my experience during the clinicals, as well as my current work experience at a hospital, I have found my passion for patient care. I would like to continue helping patients in some of their most vulnerable times as well as learning more about the science behind nursing.
What do you hope to achieve beyond completion of your major?
After becoming a registered nurse, I would like to gain much experience in different departments such as the medical-surgical floor and the intensive care unit to learn as much as possible, all while caring for my community. I would like to further my education, working my way up to obtaining my Doctorate's degree in Nurse Anesthesia. Although I might leave to further my experience, I know I will always return to serve my community that provided me with so much. 
What do you like most about UTRGV?
I love how much support I have gotten from UTRGV. My advisor has helped me become more confident in making sure I am on the right track. I enjoy the tutors that help me if I'm confused on any topics. I am grateful for the professors, such as Dr. Canchola, who are always there to help.

What does being a Vaquero mean to you?
Being a Vaquero means embracing my culture. I hope to use my experience here to represent the Rio Grande Valley as I further my career in nursing. Being a Vaquero means taking pride in my roots and using this to connect with patients on a more personal level.

What opportunities has UTRGV helped you find throughout your community?
UTRGV has allowed me to meet other students with the same passion for education and nursing as I do. This has motivated me to be confident in my passion and work as a team to reach for our goals.
What are a few of your favorite books?
For my Mexican American studies class, I had the chance to read "Borderlands/La Frontera: The New Mestiza" by Gloria Anzaldua. I loved reading about the struggles she had to face as a feminist, a part of the LGBTQ community and a Chicano living on the Texas-Mexico borderland. I am currently listening to the audiobook "Becoming" by Michelle Obama. I love hearing about her early life and how she grew up in a humble home that shaped who she is today.

What's in your playlist right now?
I enjoy listening to artists such as Twenty One Pilots on my leisure time. I enjoy listening to instrumental music when studying. This includes piano and violin soundtracks from famous movies such as "Pirates of the Caribbean."