Sub Menu Toggle
Maria Ramirez Montoya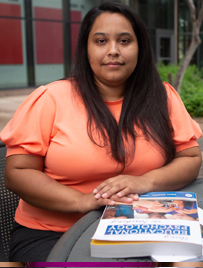 Name: Maria Ramirez Montoya
Age: 30
Major: English with Teacher Certification 7-12
College: College of Education & P-16 Integration
Hometown:  Alamo, Texas
High School: PSJA Memorial High School 
Why UTRGV?
I decided to attend UTRGV because I wanted to stay local and this university offers a great education program at an affordable price. I don't think that students must leave the Valley to obtain a great education. UTRGV has quality professors that uphold their students education to the highest of standards.

What made you decide on your current major?
Teacher are mentors, guides, and in some cases, parental figures. They  have the responsibility to help students achieve their maximum academic potential. We live in a world where words have power. Language has power and the ability to communicate effectively, as well as analyze what is being said to us via literature, images or the spoken language, is an imperative necessity in our lives. Becoming an English teacher will give me the opportunity to employ the two things I feel most passionate about in life. It will give me the opportunity to work with youths and help them harness their power of language.
What do you hope to achieve beyond completion of your major?
My greatest achievement after obtaining my degree would be to inspire young students to achieve their dreams. We live in a low socioeconomic area and many of our students are not seeking higher education because of the economic obstacles. I hope to teach them how to jump over their obstacles and if necessary, teach them to fly on the way to their academic dreams. 
How are you maneuvering being a student during the COVID-19 pandemic?
My experience with the quarantine in this pandemic has been difficult because I have four children to take care of 24/7 and tutor in addition to my now five online classes. My difficulties arise from the challenge of continuing my academic endeavors as well as becoming my children's educator. I think that this pandemic has affected everyone differently and to different degrees. I am lucky that my family is healthy and provided for and that is a big blessing during these moments of hardship that the world is experiencing. 
What do you like most about UTRGV?
What I like most about UTRGV is the opportunity I have to obtain an education. I am a first-generation student and my parents highest degree of education was elementary. Attending UTRGV gives me the opportunity to become an example for my younger siblings and inspire them to pursue their dreams. At UTRGV I have met amazing professors that have encouraged, motivated, and guided me to keep reaching for my goals.

What does being a Vaquero mean to you?
Being a Vaquero is an embodiment of my culture and values. In my Mexican culture, unity and hard work is the common denominator for all of the community, and the same can be said for the UTRGV Vaquero family. At UTRGV there is a sense of pride and kinship when we call ourselves Vaqueros because it means we are not alone.

What opportunities has UTRGV helped you find throughout your community?
Since my admission to the College of Education, I have had numerous opportunities to work with the youth. My most recent project consists of tutoring a bilingual student to incorporate the student's funds of knowledge as an asset to their education. These type of projects helped me develop my skills as a teacher and gain experience for my future profession.

What advice or encouraging words do you have for fellow students pursuing degrees during the COVID-19 pandemic?
I think the best advice I have for all students during this time is to stay safe because the most precious possession we have is our lives. Take care of yourself and don't lose sight of your goals. Although this situation is chaotic and anxiety inducing, keeping sight of goals can help students in keeping motivated in the pursuing of their degrees.