Sub Menu Toggle
Louis J. Nolan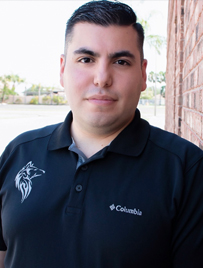 Name: Louis Nolan    
Age: 29
Major: Bachelor's Degree in Rehabilitation Services
College: Health Professions
Hometown: Mission, TX
High School:  Mission High School 
Why UTRGV?
I believe the Health Science program is excellent and what I was looking for when I applied.  Proximity to home was definitely a big plus. Being so close to home has allowed me to keep my full-time job. It further provides me with stability and the support system that I would not have had I chosen to attend a university elsewhere. 

What made you decide on your current major?
When I started off, I will admit, that I was not sure what I wanted to do nor where my passion lay. It wasn't until suffering a physical injury where I experienced first hand the dedication and caring that goes into the rehabilitation profession. I was inspired to help people in need of such services. While my goals have changed over the semesters, those changes have been defining moments that clarified how I could make a positive impact in my community by following this career.
How are you maneuvering being a student during the COVID-19 pandemic?
It has proven to be somewhat of a challenge. However, the university has been accommodating in offering required classes that are not usually available during the summer sessions. This has definitely helped me in overcoming those challenges and to stay on track with my academic goals. I am grateful for this allotment, which otherwise would have postponed my timeline to the fall.
What are your greatest strengths and what are some challenges? 
The support system of my family and friends has got to be the greatest strength that I have. It would be extremely difficult to get through this hardship alone and without their encouragement. As an essential employee during the pandemic, I have been around people who refuse to comply (even as a common courtesy for others) with safety precautions that have been recommended by experts to try to limit the spread of this virus. The biggest challenge that I face due to COVID is being patient and trying to understand peoples' indifference that the restrictions are in place for everyone's protection. The world could use more kindness practiced towards one another.
What do you hope to achieve beyond completion of your major?
I aspire to one day work in the rehabilitation field perhaps with our Military Veterans. They have given so much for our country and people. I would like my caregiving of them to be my contribution demonstrating my gratitude for their dedication and sacrifice. 
What do you like most about UTRGV?
For me, it has been such an honor and pleasant experience receiving instruction by some of the most amazing, professional and understanding educators. Therefore, I have to say my professors. They have been instrumental in guiding and shaping me into the student I am today. I am humbled and feel truly blessed having them be a part of my education. 

What does being a Vaquero mean to you? 
It means I feel it is such a privilege being a part of a university in our Rio Grande Valley which is second to none in its educational programs. I will continue to strive to make and keep it a proud family tradition in obtaining an educational degree at UTRGV.
What opportunities has UTRGV helped you find throughout your community?
I have been given opportunities to volunteer in organizations such as Easter Seals, helping me gain better understanding of my area of study. Further, as an officer for the Rehab Club at UTRGV, I have had the opportunity to help other organizations and in community events.  Those opportunities, as well as many of my classes, have definitely helped my goals become defined and refined in who I would like to help. I feel like I am where I am meant to be and helping those whom I should be.
What advice do you have for fellow students pursuing degrees during the COVID-19 pandemic?
As challenging as things may be and trying as times may get, be strong and courageous. Do not give up, we will all get through this.  We are Vaqueros, we are not alone in this. I firmly believe we will rise above it, perhaps a little stronger, a little wiser and maybe a little kinder.