Sub Menu Toggle
Lilly Elliott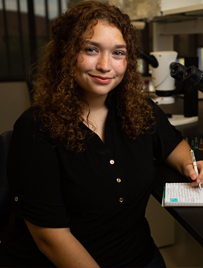 Name: Lilly Victoria Elliot
Age: 20
Major: Environmental Science
College: College of Sciences
Hometown: Pharr, TX
High School: Valley View High School 
Why UTRGV?
When I graduated high school, I didn't want to leave home yet. The UTRGV campus is close to home and the financial incentives with the prospective of graduating with no debts helped me make this choice. Also, my mom, who was starting her master's degree, joked that maybe we would graduate together. Luckily enough, this semester we'll be able to do just that!

What made you decide on your current major?
As a child, my grandfather would have me help him in his rose garden. After he passed, my interest for the outdoors remained. From catching lizards to hording insects at home, to collecting and cleaning bones I found, I was fascinated by the outdoors. Over time, it became a common thing to hear about climate change and the impact we have on our planet. It sparked an interest in working in research to help facilitate cleaner energy and reduce our footprint.
What do you hope to achieve beyond completion of your major?
Further my knowledge on environmental interactions through my master's degree. 
What do you like most about UTRGV?
I love how the classes within my major are small enough where you can interact with faculty and staff easily. The professors are kind, encouraging and extremely passionate in their craft, especially in the School of Earth, Environment and Marine Sciences (SEEMS). As soon as I transferred to UTRGV, I joined a lab that does research in soil ecology. Under the mentorship of Dr. Pereira, I had the chance to have hands-on experience in lab work and field sampling. I also presented my research nationally and met students from all over the U.S. I am happy I took the initiative to join a research lab. Had I not met Dr. Pereira; I would never have grown into the individual I am today.
What does being a Vaquero mean to you?
There are many students, me included, who have one or two jobs outside of school. The burden of being a first-generation college student hangs on the shoulders of many students. Many students don't have the luxury to prioritize school and live at home job or rent free. Vaqueros are fighters – we will know the hardships of life and truly appreciate having an education. Our parents had it harder than us, and we know this and appreciate what we have. That's what makes us different as a university.

What opportunities has UTRGV helped you find throughout your community?
UTRGV has provided me with plenty of opportunities to acquire professional skills and network. At the Soil Ecology Lab, I worked on a collaborative project with U.S. Fish and Wildlife Services and Land Life Company, an organization dedicated to fighting deforestation worldwide. I presented a poster based off this research at the annual conference of the American Association of Hispanics in Higher Education in Costa Mesa, CA.

What are a few of your favorite books?
"Escrituras de Frida Kahlo" and "The Leafcutter Ants: Civilization by Instinct."