Sub Menu Toggle
Laura Galvan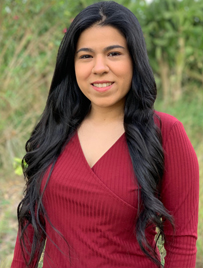 Name: Laura Galvan
Age: 28
Major: Mass Communication
College: College of Liberal Arts
Hometown: Edinburg, Texas
High School: Johnny G. Economedes High School 
Why UTRGV?
UTRGV was the perfect option for me. Not only is it close to home, but it also offers tuition assistance such as the UTRGV Achieve Grant which I have been fortunate to receive. I also wanted to go to a university that offers filmmaking classes. This made my decision to attend UTRGV very easy. Along with advertising, I am minoring in film and marketing. 
What made you decide on your current major?
I've always liked learning about communication and business. I've also always desired a career that requires creativity.
How are you maneuvering being a student during the COVID-19 pandemic?
It took some adjusting. I've only taken two online courses before and it wasn't something I was looking to do again. I prefer to have classes on campus. However, during times like these, we need to do what we can with what we have. So, I counted my blessings, focused on positive news during this dreadful situation, and adjusted to our new but temporary normal. After a few days at home, I developed a routine that I use to check in with my classes. I also make sure I use some days or time of day to just focus on my assignments, projects and exams.
 What does being a Vaquero mean to you?
 Being a Vaquero means being part of a supportive community that will provide guidance and resources to build a prosperous future. It means being determined, goal oriented and ready to make a change.
What opportunities has UTRGV helped you find throughout your community?
UTRGV provided me the opportunity to create a film production organization where students who share the same passion for filmmaking can get together to practice and extend their learning in this field. The organization has given me experience in leadership and has helped me network.
What are a few of your favorite books?
I really enjoyed reading "The Invention of Wings" by Sue Monk Kidd. It's an inspirational book about women empowerment. I also enjoyed reading "The Road" by Cormac McCarthy. It's about the survival of a father and son through a post-apocalyptic world. As well, the Harry Potter series. The movies are great, but the books are another level.    
What's in your playlist right now?
My playlist consists of music from different genres including artists J Balvin, Halestorm, Arctic Monkeys, Duelo, Banda MS, Thomas Rhett, Dua Lipa and Queen. I can't say I have a favorite. I mostly play music depending on what mood I'm in for the day. 
What advice do you have for fellow students pursuing degrees during the COVID-19 pandemic?
My advice would be to not give up. We face many challenges in life and this is just one other. The moment we start to doubt our potential or fill our minds with negative emotions, we will self-sabotage ourselves. As corny as it may sound, the only thing that can get in the way of you and your degree is you.