Sub Menu Toggle
Kamil Dragun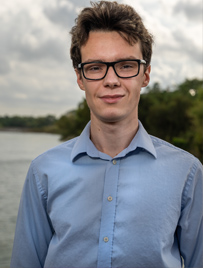 Name: Kamil Dragun
Age: 24
Major: Accounting
College: Robert C. Vackar College of Business & Entrepreneurship
Hometown: Gorzow Wielkopolski, Poland
Why UTRGV?
The coach of our chess team is also from Poland, like me, which was a very important factor in me choosing to attend UTRGV because I knew that I would have someone to count on, especially at the beginning when my English was much worse. I also needed some time to adapt to a new environment.

What made you decide on your current major?
Well this was kind of random. I liked some accounting classes that I took so I decided to go with this. I am still not sure what I want to study exactly but for sure it will be connected to business/finance.
What do you hope to achieve beyond completion of your major?
This is a very difficult question for me. I am just trying to develop in a couple directions – my favorite one is sport and competition. I don't have an overall goal for one which if I don't achieve it, it won't make me disappointed. For now, I am focused on completing my degree, continue being a professional chess player and enjoying student life.
What do you like most about UTRGV?
I really like the campus; it is really beautiful here. Professors here are extremely helpful and the people are very nice - it seems to me like it is the culture of this place.

What does being a Vaquero mean to you?
It is always nice to be a part of something bigger. Representing the university means a lot to me. I am always trying to do my best when I play, not only for myself, but also a community.

What opportunities has UTRGV helped you find throughout your community?
For sure the culture here was new for me which I really liked. Definitely there is a possibility to learn the Spanish language which I haven't been able to use yet, but I still have some time to catch up.

What are a few of your favorite books?
The whole series about Harry Potter. Well there is no special reason for that, I just read this when I was a kid and I enjoyed it, so I have good memories about it. Recently I read "The Power of Habit." I think my nature is kind of lazy so I am trying to find something which will help me to get organized or inspire me.

What's in your playlist right now?
I don't have a favorite music; I can listen basically to everything. Recently it is Imagine Dragons, Nickelback and Metallica.