Sub Menu Toggle
Jose Hernandez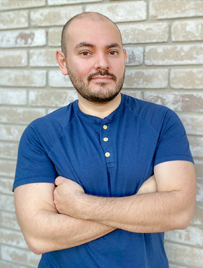 Name: Jose Hernandez
Age: 35
Major: Art Education
College: Liberal Arts
Hometown: Hidalgo, TX
High School: Hidalgo High School 
Why UTRGV?
I chose UTRGV because it has an excellent art education program.

What made you decide on your current major?
A career in art education seems logical for me because it can help me combine my passion for art and my passion to empower others to grow in their ability and confidence. 
How are you maneuvering being a student during the COVID-19 pandemic
I'm just trying to make the best of the situation and I keep reminding myself that this is not forever. One of the things that has helped me maintain normalcy has been setting a designated time and space to work on my school assignments. This way I avoid distractions and I'm able to focus.
What are your greatest strengths and what are some challenges?
I would have to say that my determination and adaptability are my greatest strengths. My biggest challenge so far has been dealing with anxiety through the quarantine, but I'm taking it one day at a time and staying positive. 
What do you hope to achieve beyond completion of your major?
My goal is to become an art educator and inspire future generations.
What do you like most about UTRGV?
I love my professors and classmates. I have been very lucky to have met awesome people that inspire me and motivate me to push on.

What does being a Vaquero mean to you?
Being a Vaquero means being part of something greater than myself. I'm proud of being part of an institution that is synonymous with the Rio Grande Valley. I'm proud of being part of an accepting and inclusive community. Finally, I'm confident in the quality education I'm receiving.
What opportunities has UTRGV helped you find throughout your community?
Through UTRGV, I have connected with great organizations such as Child Fund which has allowed me to work directly with students prior to the pandemic. This summer I was also given the opportunity by the UREC department to be the art instructor in their summer camp, which for the first time ever has become a virtual camp. I'm very honored to be among the first ones to participate in what I foresee becoming a trend and necessity.
What advice do you have for fellow students pursuing degrees during the COVID-19 pandemic?
Keep your eyes on the goal and know that this will pass. You are not alone. You got this, you're a Vaquero!