Sub Menu Toggle
Jose Garza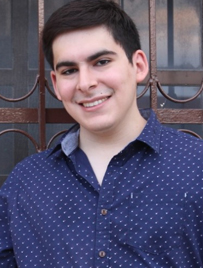 Name: Jose Omar Garza
Age: 22
Major: Rehabilitation Services
College: College of Health Professions
Hometown: Laredo, Texas
High School: United High School, Laredo, Texas 
Why UTRGV?
I chose UTRGV specifically because it was close to home and my family. Also, because it has the major I wanted to pursue and a great school environment.

What made you decide on your current major?
I chose Rehabilitation Services as my major because I learned about how this major concentrates on helping people who are in need. I found out that the classes and community service related to this major were very interesting and I would fit into this major because I am very passionate about helping others.
How are you maneuvering being a student during the COVID-19 pandemic?
Since I started the spring semester in 2020, I was taking online classes, so when all the classes became online, I was already used to it. In my case, since I have been staying home, I've been having time to be with my family and at the same time dedicate my time for the assignments and class activities. I also follow the rules of social distancing - wearing a mask when being outside home. I also keep in touch with my friends via telephone.
What are your greatest strengths and what are some challenges? 
My strengths are that I like staying home, I'm good at concentrating in my room, I have good memorization skills, and I'm very dedicated to my studies. However, the challenges I face are that there are times that I wish I could be taking my classes face to face so I can have that interaction with my classmates and professors. Also, not being able to see my friends as I used to is another challenge for me since I was accustomed to seeing them every day.
What do you hope to achieve beyond completion of your major?
 I would like to become a case manager for a school special education department or become a special education teacher. Since I have volunteered with the Capable Kids Foundation, I have gotten the opportunity to be involved in activities with kids who belong to special education, and I have discovered that I would really like working with them. I want to help them and advocate for them. 
What do you like most about UTRGV?
 What I really like the most of UTRGV are the professors from the Department of Rehabilitation Services and Counseling. They are very supportive and are always available to help students. I have found an amazing program in which I have found great opportunities for me. Also, I enjoy walking around the campus because it looks so beautiful with all the trees it has.

What does being a Vaquero mean to you?
I feel very proud to be a vaquero because it is a great school with amazing degrees and very professional faculty. I feel proud being a student in the Rio Grande Valley community.  
What advice do you have for fellow students pursuing degrees during the COVID-19 pandemic?
My advice for other students would be to have patience and give it time for things to get better. I'm sure the pandemic has been an obstacle for taking face to face classes, and for many aspects of our lives such as seeing our friends or having to wear a mask to enter to public places, but it will be over one day. Then, there is going to be time to enjoy being on campus with our friends and classmates and doing  all the activities we used to without the pandemic.