Sub Menu Toggle
Joann Gonzalez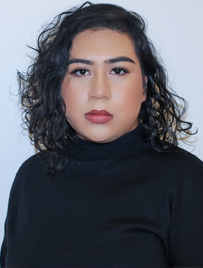 Name: Joann González
Age: 20
Major: Film/TV Theatre
College: College of Fine Arts
Hometown: McAllen, TX
High School: T-STEM Thomas Jefferson E.C.H.S., Pharr, TX
Why UTRGV?
UTRGV was an economic choice that offered me stability and familiarity.

What made you decide on your current major?
Since I was very young, I was always an artistic child whose outlet was anything creative. I have always been able to sense the world around me, and when I figured out film was my ultimate outlet, everything just clicked, and I was never the same person again. Afterwards, I understood that my passion for understanding the human being was meant to be discovered creatively instead of logically. What interests me in the art of filmmaking is being able to draw out endless of different emotions and personal reactions from people just by sharing my own vision with the world.
How are you maneuvering being a student during the COVID-19 pandemic?
I feel like graduating amidst a pandemic has been probably the worst and best university experience of my life. Because I am a film major, a lot of productions had to be canceled. Filming under normal circumstances is close to almost impossible, yet that only fueled me more into figuring out creative ways to break out of these circumstances. 
What are your greatest strengths and what are some challenges? 
Because of COVID I have been able to focus on my own craft, freely and independently. It's been a challenge having to juggle so many things being thrown at you, but I know I will come to appreciate the moment afterwards. 
What do you hope to achieve beyond completion of your major?
I want to go to graduate school and get an MFA in film. In the near future I see myself healing and sharing new perspectives through my films.
What do you like most about UTRGV?
What I like most about UTRGV are the professors who saw and encouraged the talent in students like me.
What does being a Vaquero mean to you?
Being a Vaquero means being determined to gain a better future, a future you want for yourself, no matter what field it might be. 
What opportunities has UTRGV helped you find throughout your community?
UTRGV has helped me meet a small group of creative individuals who are passionate about helping change the world through art. The opportunity to work with peers and build friendships and partnerships alike. UTRGV has made me a more determined professional and fueled my urge to thrive in my film career. It has helped me realize that I can reach my goals under any circumstances.
What advice do you have for fellow students pursuing degrees during the COVID-19 pandemic?
To future students, I encourage you to always keep going and always believe in your innermost aspirations. Along the way many things will fail you, but you can be the one odd variable who can choose to get back up and stand strong. Be confident in your passions and know that it won't always be this difficult. Trust the path and find a way to start now, no matter how small. You are the difference, in the world. You are, whoever you set your heart to.