Sub Menu Toggle
Jo-Ann Galindo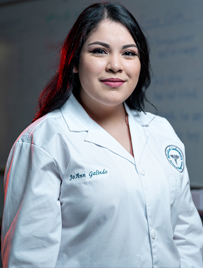 Name: Jo-Ann Galindo
Age: 22
Major: Clinical Laboratory Science
College: College of Health Affairs
Hometown: Rio Grande City, TX
High School: Rio Grande City High School 
Why UTRGV?
Before graduating high school, my plan was to move away for college. However, as graduation got closer, I realized being close to home and my family was very important to me. It was then when I decided to stay in the Valley and attend UTRGV. Being close to the people I most love while still being able to attend college and obtain my desired degree was perfect. 
What made you decide on your current major?
My main goal is to become a Physician Assistant and I am aware that the CLS (Clinical Laboratory Science) program is a great foundation to obtain prior to entering PA school. The CLS program involves microbiology, hematology, immunohematology and clinical chemistry courses which is exactly what I was looking for in my major. My love for science and my desire to help others goes hand-in-hand and this program offers this exactly. 
What do you like most about UTRGV?
I love that UTRGV is such a beautiful campus that continues to grow and offer a great variety of opportunities for their students. In addition, I like the professors, mentors and students at UTRGV. I have met incredible people at this campus that have and continue to inspire me in many ways.
What does being a Vaquero mean to you?
It's hope. Most of my friends and family see college as an impossibility rather than a steppingstone to a better future. Being a Vaquero means there's potential to be just as great and successful in the RGV as it is anywhere away from the Valley.