Sub Menu Toggle
Jacob Castro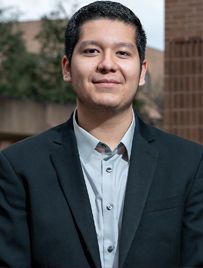 Name: Jacob Castro
Age: 21
Major: Nursing
College: College of Health Affairs
Hometown: Edinburg, Texas
High School: South Texas High School for Health Professions 
Why UTRGV?
I chose UTRGV for several reasons, but most importantly, because it has provided me the advantages to excel all while commuting from home. Because my long-term goal is to have a career as a nurse practitioner, I wanted to take advantage of being close to family while obtaining my undergraduate degree at UTRGV.

What made you decide on your current major?
Bringing comfort and happiness to other individuals has always been one of my passions. Through my volunteer work and course work I completed while at Med High, I saw the nursing profession lends itself to fulfill that passion. In addition, I have always enjoyed learning about the medical field, especially through my anatomy and physiology courses. 
What do you hope to achieve beyond completion of your major?
My short-term goal is to fulfill my desire of giving back to the community by providing the best medical care as a registered nurse and continue to further my education. My future plans are to obtain a Master of Science degree in Nursing to practice medicine as a nurse practitioner. 
What do you like most about UTRGV?
I appreciate having access to a university close to home with great professors and staff that have had an impact on my growth as an individual. Additionally, the tuition rate and travel distance are of great value.

What does being a Vaquero mean to you?
Being a Vaquero means taking pride in family, culture and community. UTRGV has afforded me the opportunity to give back to my community by mentoring students and parents through various programs. I am proud of my roots and do my best to represent the university by working hard and excelling in all areas.

What opportunities has UTRGV helped you find throughout your community?
UTRGV assisted me with making a difference in my community because I have been blessed with the opportunity to work for P-16 Outreach. As a Father-Son Program mentor for this department, I get the privilege to reach out to middle school students and promote higher education, while strengthening the bond between father figures and their sons. This wonderful experience has been a great service, as I can be a leader in my community by mentoring the younger generation to attain an education in the STEM field. Thanks to my great supervisor, Mrs. Lorena Roxburgh, who has encouraged my coworkers and I to persevere and to keep reaching our goals. Because of her leadership, my passion of being a nurse practitioner in the future has grown even more, as I aspire to be a great mentor like her.

What are a few of your favorite books?
Two of my favorite books are "Frankenstein" by Mary Shelley and "Oliver Twist" by Charles Dickens. Frankenstein is a classic science/horror fiction where each chapter is being told by a different character and comes together at the end to reveal the truth. "Oliver Twist" is another one of my favorite books as it is a humbling read that has a little bit of historical, non-fiction context too.
What's in your playlist right now?
I like to listen to all types of music, but If I had to choose my favorite music genre, it would be Christian music. My favorite song is "Reckless Love" by Cory Asbury. Because of my faith, this song is meaningful and reminds me to keep taking on challenges and exceeding them.