Sub Menu Toggle
Irma Hernandez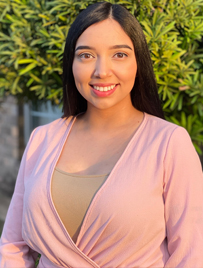 Name: Irma Dennise Hernandez
Age: 25
Major: Master of Business Administration
College: Robert C. Vackar College of Business & Entrepreneurship
Hometown: Reynosa, Tamaulipas
High School: Preparatoria Instituto Colón, Reynosa, Tamaulipas 
Why UTRGV?
I chose UTRGV because I knew I would get a quality education while being close to home. Initially, I was not convinced of moving to the United States at all. With Spanish being my first language and attending school in Mexico my whole life, I didn't believe I would adapt as well as I did. Thankfully, UTRGV made me feel right at home. It didn't take long for me to discover all the involvement opportunities that UTRGV has to offer. 

What made you decide on your current major? 
Marketing is my main career of interest, and this is one of the MBA program concentrations. Last fall I earned my Bachelor of Arts in Mass Communication: Advertising & PR. My idea was to pursue a second degree, but I was encouraged to further my education by enrolling in a master's program instead. I believe that marketing and advertising are areas that complement each other. What I like about my program is that I am also learning about the business aspect of this industry. I feel that this will give me greater career opportunities. So far, I've loved the College of Business & Entrepreneurship because our program coordinators and professors have been nothing but patient and helpful.
How are you maneuvering being a student during the COVID-19 pandemic?
When quarantine started, we all went through this sudden change and we had no option but to adapt. Personally, I enjoy in-person classes. The change exposed me to this modality which is way out of my comfort zone. My job also transitioned to a remote setting. I started missing seeing familiar faces around the office. I quickly realized that the drive from home to work to school helped me clear my mind in between responsibilities. This pandemic didn't allow me to do this anymore and slowly ended up affecting my mental health. At home, I had a designated space in which I would do homework, but it didn't feel like a space to spend most of my day. Slowly I adapted that space to make myself comfortable and manage everything from one place. I am not the type of person to give up, especially when I have invested time and effort so taking a break from school was never an option. 
What are your greatest strengths and what are some challenges?
I consider myself to be an organized person for both school and work. I believe that this helped me to not lose track of my duties. I thank God that my supervisors are great at communicating and supportive when it comes to schoolwork. During the Spring semester, my classmates were also good at keeping track of our assignments and were understanding when unforeseen situations came up. My biggest challenge was worrying about my family - who I wasn't able to see as often - and also that this virus would get to them one way or the other. What I'm most grateful for is the support I have from my mom and my husband. They both remind me that everything will be alright when I feel the most stressed about something.  
What do you hope to achieve beyond completion of your major?
I am interested in pursuing a second master's degree in translation and interpreting or obtaining an ATA certification. I would like to eventually work for a company in which I can curate content for both Spanish- and English-speaking audiences. Although Spanish is my first language, I've found through my research that jobs require you to have that degree or certification. I also hope to continue being able to serve as an advisor to my organization and share resources that can potentially help undergrad members. 
What do you like most about UTRGV?
I appreciate my program coordinator and professors because they have been helpful, responsive, and patient since the beginning of the pandemic. School and athletic events are also things I love about UTRGV.
What does being a Vaquero mean to you?
It means being proud of who you are and where you come from. It means being part of history as we see our institution grow. It means proving that we can still score big career opportunities without having to leave home.
What opportunities has UTRGV helped you find throughout your community? 
The involvement opportunities at UTRGV are endless. I have been able to serve our campus community as well as nonprofit organizations in the RGV through community service. I was able to be part of Alpha Sigma Tau sorority where I now serve as an advisor. Greek life opened many doors for me. I was introduced to networking, traveling, and honor society opportunities. I also became part of the AD club where I had the honor to serve as chapter president for one year, which gave me the opportunity to be part of the AAF (American Advertising Federation). Now, as a graduate student, I am continuing to be involved in the MBA Association. I was recently elected chapter secretary, and I can't wait to see the opportunities this will bring me. 
What advice do you have for fellow students pursuing degrees during the COVID-19 pandemic?
In all honesty, I can say that this is your time to prove people wrong - even yourself. Just because we are going through a very rough patch some people might expect for students to either fail at trying or give up, but this doesn't have to be the case at all. We all need to show resilience. We need to show that even when we feel our weaknesses flourish in the adversity of remote environments, we can still turn that to our advantage one way or another. Don't let the time, effort, and money that you have invested so far go to waste. Go out there and get that degree. You can do this!