Sub Menu Toggle
Gabriela Parra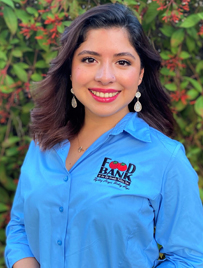 Name: Gabriela Parra
Age: 24
Major: Communication Studies
College: Liberal Arts
Hometown: McAllen, TX
High School: McAllen High School 
Why UTRGV?
I have collected an abundance of invaluable family memories at UTRGV from the time I was three years old. Evening walks around the Bronc Trail, standing in line with my brother to take a Christmas photo and celebrating my quinceañera at the UTPA Events Hall are just some of my many unforgettable moments. I have attended almost every March Madness, HESTEC and other campus events. My heart has always belonged to this campus and I am gratified that I followed it to UTRGV.

What made you decide on your current major?
I completed an internship at the McAllen Chamber of Commerce. The projects and events I participated in ignited my passion for serving and creating positive change in my community. This experience inspired a redirection of my goals. After four years of living away from the Valley, I decided to move back to McAllen, enroll at UTRGV, and change my major to communication studies. This major teaches students knowledge and critical skills for the workplace. The multi-disciplinary and interrelated practices learned in this field have equipped me for any path I choose to pursue in life and my career.
How are you maneuvering being a student during the COVID-19 pandemic?
As a student and full-time employee at the Food Bank of the Rio Grande Valley, time management, setting an agenda, and taking care of my mental health have proven essential in maneuvering and normalizing life during the COVID-19 pandemic. 
What are your greatest strengths and what are some challenges? 
The loss of interaction with the world, changing to online classes mid-semester and beginning a new role at the Food Bank RGV during COVID presented never before seen challenges for me. Nothing screams "trying to graduate during a pandemic" like your 5-year-old laptop dying during an online exam, then having to figure out how to safely purchase a new computer. I relied and benefited greatly on my ability to adapt and communicate openly with my CEO and professors. The support that I received from them helped me prepare and execute any and all tasks. 
What do you hope to achieve beyond completion of your major?
Beyond completion of my bachelor's degree, I plan to pursue a Master's in public administration or disaster studies. My goal is to create and provide positive and transformative change for my community. On March 19, still during the early stages of COVID-19, I joined the Food Bank of the Rio Grande Valley team. As the Executive Assistant to FBRGV CEO, Stuart Haniff, I am able to utilize the skills gained from my courses while practicing my passion in real time in the real world. 
What do you like most about UTRGV?
What I love most about UTRGV is the priority of providing their students with a fulfilling learning environment to create a sturdy foundation for our future. The professors are inspirational and eager to build the next generation of leaders. Within the many intricacies that make up UTRGV, what I like most is the strong and enduring friendships I have made alongside the timeless memories.

What does being a Vaquero mean to you?
Being a Vaquero means that I have been prepared with the proper skills to make a positive impact in my community. Vaqueros are honest, strong and powerful. I am proud to walk the same halls as the greats before me including advocate and poet, Rossy Evelin Lima, and scholar of Chicana culture theory, Gloria Anzaldua.

What opportunities has UTRGV helped you find throughout your community?
UTRGV offers a wealth of opportunities to its students. One of the biggest inspirations for me has been attending UTRGV's Distinguished Speakers series. I have had the privilege of learning from world-class speakers and lecturers. Maya Angelou, Bill Nye, Daymond John, and former first lady of Egypt, Dr. Jehan Sadat, are just a few of the array of trail blazing individuals who have imbued wisdom to  me and opened my mind to the countless possibilities of the world.
What advice do you have for fellow students pursuing degrees during the COVID-19 pandemic?
My advice to students pursuing a degree during COVID-19 is to keep reminding yourself what your "why" is. What is your motivation for success? How can you use the skills you learn in class to change your life and make a lasting impact on the world around you? Use your time wisely and diligently, write reminders in your planner to keep up with assignments. Most importantly, always remember that you are not alone, and you will get through this.