Sub Menu Toggle
Fernando Ramirez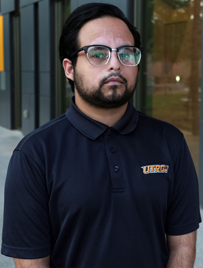 Name: Fernando Ramirez
Age: 21
Major: Graphic Design
College: College of Fine Arts
Hometown: Harlingen, TX
High School: Harlingen High School, Harlingen, TX 
Why UTRGV?
While I was in high school, I had the opportunity to learn about different universities, but UTRGV stood out to me compared to the rest. UTRGV offered great opportunities, had good programs, and was close to home. While visiting both campuses, I felt comfortable and enjoyed the ambience and culture of both campuses.

What made you decide on your current major?
Since I was a child, I was always interested in art, but I didn't know how to apply it as a career. Later on, while I was in high school, I was able to take basic graphic design courses. I was able to learn how to create works of art for everyday uses, such as billboards, brochures, packaging and other types of media.
How are you maneuvering being a student during the COVID-19 pandemic?
Although the university has switched from traditional classes to online due to COVID-19, UTRGV has been helping students and aiding us to continue our academic goals. This has encouraged me to keep going and finish my last year here at UTRGV. One of the things that has really helped me is keeping a list of tasks and reminders set on my phone to get everything done on time and not fall off schedule. Another thing that has helped me is taking walks outside and driving around to help me destress.
What are your greatest strengths and what are some challenges? 
My greatest strength has been my determination. Although I have had challenges such as anxiety since school and work transitioned online, my determination has helped me push through. My determination keeps me from quitting and motivates me to keep trying and reach my goals.
What do you hope to achieve beyond completion of your major?
I hope that after graduation I will be more confident in my graphic design work and have the experience that I will need to find the right opportunities. After I finish my undergrad, I plan on working on getting my certification in User Experience and User Interface Design here at UTRGV. I hope to use my skills and experience to create media that can help the community. 
What do you like most about UTRGV?
What I like the most about UTRGV are the opportunities. I have received so many great opportunities, such as working for The Rider newspaper and for the School of Medicine Marketing Department. I will never forget these opportunities I have had, and I will always appreciate everything UTRGV has offered me.

What does being a Vaquero mean to you?
Being a Vaquero, to me, means helping out each other and not giving up. The university has become a community of students who get together and work hard to accomplish a goal, whether it be academically, for the community or for personal reasons. As Vaqueros, we strive to achieve something that can benefit us all and create a better environment.

What opportunities has UTRGV helped you find throughout your community?
While being at UTRGV, I have received many great opportunities that have helped me prepare for my career and build my skills. As a photographer for The Rider, I got to meet very interesting people, learned how to work in a team, learned about professionalism and learned how to approach people. My current job as a student designer for the School of Medicine has helped me learn more about my career and has been preparing me to become a better graphic designer. Other opportunities such as volunteering for the Edinburg Scenic Wetlands & World Birding Center, the IMAS Museum, and the Food Pantry have helped me learn more about my community and has encouraged me to give back to my community.
What advice do you have for fellow students pursuing degrees during the COVID-19 pandemic?
Don't give up! I know that it might be different and hard working from home, but don't be afraid to reach out to fellow students and professors. Everyone is going through the same situation and learning how to adapt to these changes. If you see someone struggling, hype them up and encourage them to keep going!