Sub Menu Toggle
Emilia Monsivais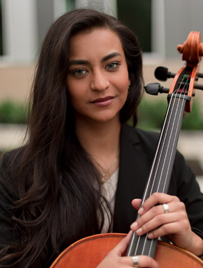 Name: Emilia J. Monsivais
Age: 20
Major: Bachelor of Science in Civil Engineering
College: College of Engineering and Computer Science
Hometown: McAllen, TX
High School: Lamar Academy/ McAllen Memorial High School
Why UTRGV?
By the time I started my senior year in high school, I had a goal of excelling in my career choice without needing to give up my many passions. I also hoped to have the ability of looking after my family as I continued my education in an affordable yet outstanding school – UTRGV was always the best choice. I continued my job as a musician and perform with the Valley Symphony Orchestra, I have the freedom to study near home with the resources provided to students, the teachers and faculty are very supportive and understanding – I can't ask for more. I am happy to be in a university I can call a second home and I am proud to be a part of the Vaquero community.
What made you decide on your current major?
Before I graduated high school, I confidently decided I wanted to follow my sister's footsteps and major in International Business, but when I saw her in action, I was not longer convinced this was the path for me. I knew I wanted something different – I could see myself working in the field alongside the people that slowly build up our infrastructure which often goes unnoticed and is taken for granted. From streets to skyscrapers, I am in awe of every detail set into making these wonders and the safest places for us to continue our daily lives. With my teachers' guidance, I made up my mind and changed my major to Civil Engineering. Without a doubt, I have no regrets and am enjoying learning alongside my professors and colleagues today. 
What do you hope to achieve beyond completion of your major?
As I slowly work toward my graduation, I plan to serve in the military and join the US Marine Corps (USMC). I grew up meeting many Marines who helped my family through rough paths, but the ones I met always gave me good advice and never allowed me to give up on building my success – they earned my respect and welcomed me to a world of warriors who sacrificed their lives for us. I want to join the USMC Officer Candidates School and work as a Combat Engineer throughout my active years. When I return, I'd like to establish my own firm and serve my community through the efforts of teamwork alongside engineers and workers, improving our infrastructure and expanding development. This is my way of sharing a helping hand and spreading the message of helping others so that they may one day pay it forward to someone in need. 
How are you maneuvering being a student during the COVID-19 pandemic?
The COVID-19 pandemic has not made the student life easier; it is overwhelming as we adjust to many changes in our daily lives we didn't imagine would occur so suddenly. It is challenging to juggle time between schoolwork, looking after my family, and leaving the house when I need to attend work. I continue working to reach the end of this semester successfully by trying to make my schedule around my courses every day. I hope the pandemic will end in due time, allowing us to return and enjoy the college experience at UTRGV.

What advice do you have for fellow students pursuing degrees during the COVID-19 pandemic?
You and I have a goal to earn our degree that will open doors to change the world. Life is reminding us we must face unexpected challenges, but the obstacles are not impossible to overcome. I know it is stressful to keep up with all the assignments we receive and watch the lessons as we look out for our families, but we will make it through these times successfully. Let your teachers know if you are struggling at home – they are also adjusting and understand it's not easy. Explore UTRGV's social media and become acquainted with other students – we are stronger when we are united. I admire and cheer on the students preparing for their graduation during these hard times. Remember there's more that lies ahead. Keep your chin up, get that degree and make yourself proud! We can do this!