Sub Menu Toggle
Diego Garza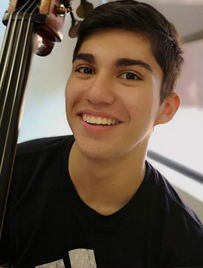 Name: Diego Garza
Age: 19
Major: Music Performance
College: College of Fine Arts
Hometown: Edinburg, TX
High School: Economedes High School, Edinburg, TX
Why UTRGV?
UTRGV offers me a great musical experience while being close to home and it's more affordable than other universities and conservatories.
What made you decide on your current major?
I've been studying music since middle school and I've never strayed from it since. While I do enjoy listening to music, playing and performing it is an entirely different experience.
How are you maneuvering being a student during the COVID-19 pandemic?
Although my academic goals are definitely harder to accomplish, I've had to adapt to studying and practicing my music at home. At first it wasn't easy since home for me was always a place to relax, but soon enough it got easier to get into a productive mindset.
What are your greatest strengths and what are some challenges?
My greatest strength has to be my drive to succeed while my greatest weakness is my doubtfulness. It's always a tug of war between those two but I believe that together, they can work harmoniously.
What do you hope to achieve beyond completion of your major?
I know after graduating at UTRGV, I would like to attend a graduate school for music performance and learn even more about performing my instrument.
What do you like most about UTRGV?
My favorite thing about UTRGV are the professors. They're always there if I'm having trouble with anything and have adapted so quickly to this new learning environment.
What does being a Vaquero mean to you?
For me, being a Vaquero means being proud of one's heritage and supporting the local community. My dad also attended UTRGV when it was still UTPA and being the second generation of my family to attend a university means a lot to me.
What opportunities has UTRGV helped you find throughout your community?
UTRGV has helped me connect with the community by giving me the opportunity to express my creativity to an audience, physically or virtually.
What advice do you have for fellow students pursuing degrees during the COVID-19 pandemic? I'd advise students to stay determined and productive. Despite our current circumstances, take the time to work on ourselves, become the best person we can be, and maybe even learn something new and exciting