Sub Menu Toggle
Dan Reagan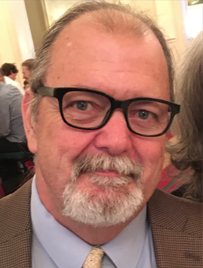 Name: Dan Reagan
Age: 60
Major: PhD in Rehabilitation Counseling
College: College of Health Sciences
Hometown: Edinburg, Texas
High School: Edinburg High School 
Why UTRGV?
I chose UTRGV because of the interactions I had experienced with many of the faculty prior to me considering entering into a program of study. I appreciated the interest they demonstrated when presenting professional presentations in the community and among others in their profession. Much of the growth I experienced in the field was a direct result of faculty at the university encouragement I received even before applying for the program

What made you decide on your current major?
I have been a licensed professional counselor since 1997. My decision to pursue my doctorate was largely motivated by my interest in improving counselor training and to engage in research.
How are you maneuvering being a student during the COVID-19 pandemic?
Fortunately most of my studies were completed prior to the arrival of the pandemic. The biggest challenge was learning how to use, and be comfortable with, a social media platform to defend my dissertation. The Covid-19 pandemic has caused me to have to adapt to new challenges. Learning to practice basic counseling skills without the safety net of a face-to-face encounter has been a big challenge. The situation has also caused me to appreciate the ready availability of colleagues and co-workers. 
What are your greatest strengths and what are some challenges? 
My own life experience outside of the academics was my biggest challenge. It has been a mix of tragedy and comedy along the way. Coordinating my work responsibilities and the demands of my studies was difficult. But in the midst of the difficult I also experienced a serious car accident, an invasion of bees in my home, and serious health challenges of family members.  The biggest challenge, by far, was the loss of my wife almost a year prior to completing my studies. Her encouragement both living and in her passing was instrumental in me not falling short of the achieving my academic goal. 
What do you hope to achieve beyond completion of your major?
I am hoping to engage in teaching and research, especially in the areas of theory and ethics. 
What do you like most about UTRGV?
Without a doubt the best part of UTRGV is the faculty. 

What does being a Vaquero mean to you?
Being from the Valley I am very proud that I am graduating from Valley's university.  It is a great symbol of the progress this area has been.

What opportunities has UTRGV helped you find throughout your community?
I was honestly intimidated by the thought of research when I first began my studies. I think I have a new appreciation for research and my place in the accumulation of knowledge.
What advice do you have for fellow students pursuing degrees during the COVID-19 pandemic?   
Don't stop learning and don't allow situations to become solutions. My own experience has taught me that learning is less about where it happens and more about my hunger to know more.