Sub Menu Toggle
Claudia Ruiz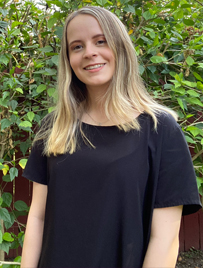 Name: Claudia Andrea Ruiz
Age: 22
Major: Marketing
College: Robert C. Vackar College of Business & Entrepreneurship
Hometown: Mission, TX
High School: Sharyland High School, Mission, TX  
Why UTRGV?
I chose UTRGV because of its affordability and the many great opportunities and resources that it offers.
What made you decide on your current major?
I've always had an interest for the branding and promotion of businesses which is why entering the field of marketing was perfect for me. I believe marketing is the fun and entertaining part of business as it allows me to open up the creative side of myself.
How are you maneuvering being a student during the COVID-19 pandemic?
The situation has been hard on all of us as students, as we have to adapt to a new way of learning and working. However, I've been able to keep up with my online classes and job since I've been improving on managing my time better and being more organized. 
What are your greatest strengths and what are some challenges? 
I believe one of my greatest strength is staying positive despite the situation. I focus on making sure to be productive with my job and stay in constant communication with my supervisors. It has been challenging to adapt to a new way of learning and not being able to have that face to face interaction with someone and to not go outside your home freely. They are challenges that can be overcome and that can be looked at on the bright side instead. 
What do you hope to achieve beyond completion of your major?
After completing my major, I would like to further my education by pursuing a master's degree and then having a business of my own. 
What do you like most about UTRGV?
What I like most about UTRGV is the opportunities that it has given me. The opportunity to be learning on a beautiful campus with amazing professors that are there for you, to be part of organizations, and to learn something new every day.

What does being a Vaquero mean to you?
Being a Vaquero, to me, means belonging to a group of people that have goals and work hard to achieve them.  It means being strong and determined to take any challenge.

What opportunities has UTRGV helped you find throughout your community?
UTRGV has helped me achieve many goals. Throughout my years at UTRGV I've been able to study abroad, join organizations with people that share my same interests and goals, and also have the opportunity to have a job in the marketing field!
What advice do you have for fellow students pursuing degrees during the COVID-19 pandemic?
Students shouldn't be discouraged to pursue a degree in these uncertain times. Despite the challenging situation, we live in a time where technology greatly helps us stay in touch with everyone. Communicating with professors or other students is possible thanks to the internet. Yes, it is different to learn in front of a device, but not impossible. Students should take the challenge and learn from it.