Sub Menu Toggle
Clarissa Caballero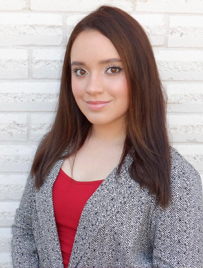 Name: Clarissa A. Caballero
Age: 22
Major: Marketing
College: Robert C. Vackar College of Business & Entrepreneurship
Hometown: McAllen, TX
High School: McAllen Memorial High School 
Why UTRGV?
I chose to attend UTRGV after researching the programs and opportunities offered. Upon visiting other universities, none felt like home as much as UTRGV did. Most importantly, UTRGV offered an opportunity to stay closer to my family for a while longer. That said, family is very important to me and their support to continue my education made my final decision to attend UTRGV.

What made you decide on your current major?
As previously mentioned, family is very important to me. My older cousin majored in marketing and I was lucky enough to receive her guidance when I was trying to decide a major. She has had so many opportunities in this field that made want to follow her footsteps. I also believe that marketing will open up so many new opportunities. I believe the marketing and graphic design, my minor, fit very well together. I hope for a bright future with what I have learned here at UTRGV.
How are you maneuvering being a student during the COVID-19 pandemic?
I am being extra cautious during these times. I decided to take my classes online in order to avoid the virus as much as possible. However, the online classes consist of Zoom lectures where you can see other students as well as the teacher, so it does not feel that much different, which was great. We still get to have discussions regarding what we are learning. So far, I have no complaints because UTRGV has done so much to ensure the safety of their students such as offering more online courses and assistance during COVID.
What are your greatest strengths and what are some challenges? 
My greatest strengths would consist of adapting to situations and being more creative. Due to COVID, I have now completely adapted to online school and working at home. I didn't really have many challenges due to COVID, but I think that at the start of this situation, I was having a hard time staying energetic. Since we were at home all the time, I did not have much to do other than work and school, so it was basically me sitting at my desk for most of the time. I was able to overcome this by getting more into fitness and exercising at home.
What do you hope to achieve beyond completion of your major?
I hope to work in the marketing field and use all the knowledge I have gained at UTRGV. Not only have I gained knowledge with the classes I took, but I had the amazing opportunity to work with the University Marketing and Communications department. This allowed me to gain first-hand experience as to what is expected in this field of study. I will investigate further as to what my options are, but I will always keep in mind to work for a nonprofit and see what I can do to help them.
What do you like most about UTRGV?
I like the representation of culture. UTRGV always has events that will celebrate their student's different cultures. That said, I liked all the events held at UTRGV, and how there was always something to do in between classes. As well as all the opportunities UTRGV offers to all their students. Most of all, I like being able to work there as a student assistant and the friendships that were created.

What does being a Vaquero mean to you?
To me, being a Vaquero means being part of a community that instills school pride. I will always be proud to be a Vaquero and will always remember all the memories that were created. Vaqueros consist of people who are learning how to reach their goals while having fun at the same time. With everything that I have said so far, I can sincerely say that attending UTRGV was the best decision for me.

What opportunities has UTRGV helped you find throughout your community?
I found a passion for volunteering due to the opportunities UTRGV has to offer. One opportunity was being able to volunteer at the Butterfly Rescue Center. I learned so much about the importance of butterflies while making sure their habitat was clean. This made me realize that helping others, as well as creatures, is very important to keep the world going. UTRGV has also given me the opportunity to gain knowledge regarding my major, I was able to work with amazing marketers in the school and have learned so much from them. Everything that I have learned at UTRGV will help me have a successful future.
What advice do you have for fellow students pursuing degrees during the COVID-19 pandemic?
Education is very important for a bright future; however, health comes first. I would suggest taking online classes. I am currently taking all of my classes online and I feel safer. It is a great way to continue learning while protecting your health. I would also want them to keep in mind that UTRGV will have many options to ensure that students can safely learn if they do choose to have in person classes.