Sub Menu Toggle
Carmen Galvan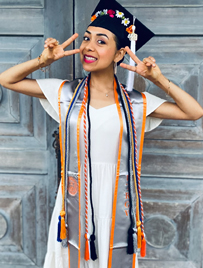 Name: Carmen Elena Galvan
Age: 27
Major: Mass Communications
College: College of Liberal Arts
Hometown: Brownsville, TX
High School: Simon Rivera High School
Why UTRGV?
I was scared of going to college because I didn't think I was smart enough. I spent years resisting this dream because I feared no college would want me. But when I moved back to my hometown, I saw that UTRGV was everywhere – in commercials, on billboards, bumper stickers and t-shirts. Was this a sign, or was it just good marketing? Either way, it encouraged me to give college a second chance. And, when I got accepted into UTRGV, I became extremely happy and hopeful for the future. This motivated me to be the best student I could be.  
What made you decide on your current major?
I love watching the news while I enjoy a cup of coffee early in the morning. I use this time to observe how reporters piece stories together and present them so effortlessly on national television. It's not an easy task to do. They look so poised, so professional, so put together, and I hope to be like them one day. This is what inspired me to pursue a degree in mass communications.      
How are you maneuvering being a student during the COVID-19 pandemic?
Being a student during the pandemic is challenging, but I don't allow it to discourage me from completing my degree. It requires extra time management and organization, which I know will pay off in the end.  
What are your greatest strengths and what are some challenges?
My greatest strengths are being determined, self-driven and a perfectionist to the max. My challenge is that I'm never fully satisfied with what I do.    
What do you hope to achieve beyond completion of your major?
I hope to work at a news station where I can become an experienced reporter, anchor, or news editor. But, before moving forward with my career, I'd like to visit Disney World to unwind and have fun! My brain needs a small break, and I think Disney will be the best way to recharge before heading to work.
What do you like most about UTRGV?
What I like most about UTRGV is that the campuses create a connection between the communities of the Valley. Not only does this expand our degree options, but it also allows us to meet different people.
What does being a Vaquero mean to you?
Being a Vaquero(a) means being a part of UTRGV's culture, and this is something I will forever be proud of.  
What opportunities has UTRGV helped you find throughout your community?
UTRGV presented a countless number of amazing opportunities for me. Leadership trainings, honor society activities, volunteer events, extra credit assignments, and student employment – just to name a few. These have all helped me become academically successful and provided great experience for my degree.
What advice do you have for fellow students pursuing degrees during the COVID-19 pandemic?
My advice is don't allow the pandemic to discourage you from pursuing your dream.