Sub Menu Toggle
Aubrey Villanueva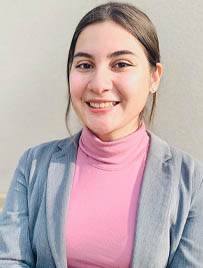 Name: Aubrey Megan Villanueva
Age: 20
Major: English - Concentration in Linguistics
College: College of Liberal Arts
Hometown: Harlingen, TX
High School: Harlingen High School South 
Why UTRGV?
I chose to attend UTRGV because I wanted an affordable first-class education at a smaller university that gave me opportunities to conduct research.
What made you decide on your current major?
I decided to pick linguistics as an area of concentration because I want to devote my life to studying language and culture after growing up in the Rio Grande Valley around diverse local language varieties. I took an experiential community-based course on Border Languages taught by Dr. Christoffersen and found myself fascinated by the in-class discussions and the opportunities to conduct research.
What do you hope to achieve beyond completion of your major?
I hope to continue my education here at UTRGV and receive my master's degree in English as a Second Language. Then, I plan to receive my doctoral degree and continue to conduct sociolinguistic research that enhances our understanding of language in the United States.
How are you maneuvering being a student during the COVID-19 pandemic?
I am coping with being a student during the COVID-19 pandemic by staying connected to our UTRGV community by attending virtual workshops and meetings with my mentor, Dr. Katherine Christoffersen. It has been very important for me to maintain normalcy in my daily life by following a schedule, converting my room into a workable space, and taking time to connect with my loved ones virtually. My greatest strengths come from leaning on my academic and personal support systems such as my mentor and my family. Some challenges have been for me to stay positive and productive during this unprecedented time. 

What does being a Vaquero mean to you?
Being a Vaquero means, to me, that I am able to attend classes on the same campus that my mother and my grandmother attended; continuing three generations of Vaqueros.
What opportunities has UTRGV helped you find throughout your community?
UTRGV has helped me discover my passion for sociolinguistic research by connecting me with my mentor, Dr. Christoffersen, and peers that I have met through the Cross Linguistics Undergraduate Board.
What are a few of your favorite books?
"1984" because of course, and "The Maltese Falcon" because it's so much fun. I read it in one day.

What's in your playlist right now?
According to my Spotify heavy rotation, my top artists are Halsey, Ariana Grande and Megan Thee Stallion.