Sub Menu Toggle
Ashley Villarreal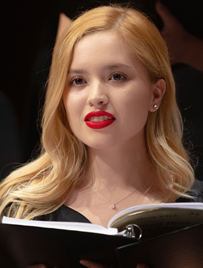 Name: Ashley Nicole Villarreal
Age: 22
Major: Music Education
College:  College of Fine Arts
Hometown: Brownsville, TX
High School:  Rivera High school, Brownsville, TX 
Why UTRGV?
One of the reasons I chose UTRGV was to stay close to my family while also staying involved with those from our culture and community. The Valley is a special place to me where I've made strong connections, both personally and in business, and I've seen so much talent from my peers as I've grown up. 
What made you decide on your current major?
One of the reasons why I value music so much was due to my experience in being a member of my high school choir. The choir room was the place where I made strong friendships, created special memories and learned to appreciate all of the things that music has to offer. After graduating high school, I knew my passion and talent for music was more than just a hobby – it was my calling in life. I hope to one day teach a choir of my own and inspire students through the art of music. I would like to thank my former directors, Charles Williams and Tiffany Gibson, for being amazing role models and motivating me to pursue music education as a career.
How are you maneuvering being a student during the COVID-19 pandemic?
It has been the most challenging semester I've ever faced. I am currently student teaching and the usual environment of choir class is much different when having it virtually. Although this has put some implications on singing together as a group, we are still learning music and are continuing to find ways on how to manage a virtual choir. 
What are your greatest strengths and what are some challenges?
My greatest strength would be the positive outlook I bring into any situation. No matter how difficult things get, I will always find a way to overcome and focus on what I can do in the moment to solve it. The biggest challenge that I have faced this semester has been student teaching and working virtually. It has been quite a journey. 
What do you hope to achieve beyond completion of your major?
My goal is to start my career as a choir director here in the Rio Grande Valley. As a teacher, I plan to share my love for music while also inspiring students to be creative and kind individuals within society. 
What do you like most about UTRGV?
The professors I've had here at UTRGV have made each class a worthwhile and enriching experience. I've been given many opportunities to help strengthen my craft as a musician while also enabling me to become a well-rounded music educator. 
What does being a Vaquero mean to you?
To me, being a Vaquero means coming together as one no matter where you are from. We are all equal and capable of being successful in all aspects of life. V's up! 
What opportunities has UTRGV helped you find throughout your community?
UTRGV has helped the voice program in bringing in amazing musicians to share their craft and knowledge with not just music students, but for the entire public. 
What advice do you have for fellow students pursuing degrees during the COVID-19 pandemic?
We are all going through this together. Stay positive and don't be afraid to reach out for help!