Sub Menu Toggle
Angela Zavala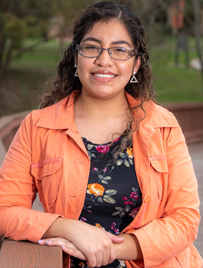 Name: Angela Zavala
Age: 19
Major: Civil Engineering
College:  College of Engineering & Computer Science
Hometown: Brownsville, TX
High School: Pace Early College High School 
Why UTRGV?
I chose to attend UTRGV because it is close to home and I get to earn a higher education without having to leave my family and culture behind, like many of my friends had to.
What made you decide on your current major?
I choose Civil Engineering because, even though my dad doesn't have a degree, he does a lot of construction like converting some acres of land into a home and I have always looked up to him.
What do you hope to achieve beyond completion of your major?
What I want to achieve from my major is to better the community through it. Not only do I want to do something to improve the community with infrastructure — like finding a better alternative to recycle waste — I also want to someday provide for the community by contributing projects such as Habitat for Humanity, which helps to build homes for those in need. My biggest goal is to one day be so successful that I get to offer scholarships to the students that are pursuing a career in STEM. 
What do you like most about UTRGV?
What I like most about UTRGV is that there are a lot of opportunities. For example, even though I am a full-time student, I still managed to find a job on campus that helps me afford the things I need. I also like that we have several campuses because it connects people from all these different cities (Brownsville, Edinburg and Harlingen) into one same institution.

What does being a Vaquero mean to you?
Being a Vaquera means representing the Rio Grande Valley and showing the world that we are just as hardworking and capable of making an impact in the world as any other school. I am a proud Vaquera. V's up!

What opportunities has UTRGV helped you find throughout your community?
Thanks to UTRGV for giving me the opportunity to have a job within the school that has, not only my classes in consideration, but also wants me to be successful with everything I do. Working at UTRGV has helped me communicate better with other individuals and it has made me want to help other people. Even though I am a full-time student, I manage to have a job on campus that nourishes my leadership and interpersonal skills that I know will be essential to my career. Plus, I have an amazing boss whom I want to thank for nominating me for this honor.
What are a few of your favorite books?
My favorite book right now is "The Silent Patient" by Alex Michaelides because it has a plot twist within a plot twist and it had me thinking of a million hypotheses of how the book could end, but I never expected that ending. I finished it in one reading since I couldn't put it down. "Just Listen" by Sarah Dessen is also one of my favorite books since it made me realize I loved reading when I was in middle school.
What's in your playlist right now?
My favorite artist at the moment is Billie Eilish. Her voice is just mesmerizing, and her four Grammys are proof of her talent. In addition, she has achieved success at a very young age, setting an example for young girls to keep working toward their goals.