Sub Menu Toggle
Andrea Ayala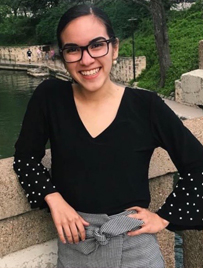 Name: Andrea Ayala
Age: 21
Major: Marketing
College: Robert C. Vackar College of Business & Entrepreneurship
Hometown: Saltillo, Coahuila, Mexico 
Why UTRGV?
I chose UTRGV because being close to my family is very important to me. Also, this university made me feel at home. Despite being an international student, the school gives us the necessary support to continue our education.
What made you decide on your current major?
I've always been interested in fashion. Before deciding what I wanted to study, I started to get very involved in the business, so I feel that marketing could be a great jumpstart to focus on those two areas that are my passion: business and fashion  
How are you maneuvering being a student during the COVID-19 pandemic?
It has been complicated to balance school, work, and responsibilities at home, but as time goes on, things have been settling in. Managing my time properly has helped me a lot and also adapting to this "new normal" with positivity. 
What are your greatest strengths and what are some challenges? 
What has helped me stay active and focused on my studies is my positivity and knowing that within everything we have been passing through in the last few months, we can learn so many things, and at the same time, we have developed new study techniques.
What do you hope to achieve beyond completion of your major?
I want to continue my studies with a master's degree in fashion so that I can master my two main areas of study. 
What do you like most about UTRGV?
I love the community - all the people that study here, it's amazing!

What does being a Vaquero mean to you?
Being a Vaquero is belonging to this wonderful community that helps each other. It's a community full of hard workers, and we are strong and united.

What opportunities has UTRGV helped you find throughout your community?
Studying at UTRGV has given me the opportunity to be part of organizations where we have done community service, attended conferences in other cities and networked with many people. It has also been possible for me to work in the Marketing Department so I can get to know more about my field
What advice do you have for fellow students pursuing degrees during the COVID-19 pandemic?
I know it's hard for everyone to stay cheerful with everything that's going on in the world. Still, you don't have to put your head down; we have the opportunity to be part of this great community where you can seek academic and personal support within the university.